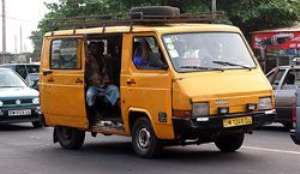 Finance and Economic Planning Minister Dr Kwabena Duffour has announced a slash in taxes on petroleum products at his first budget statement to Parliament.
Although the minister would not state when the cut will be implemented, he said it is expected that the "short to medium term" sees this.
A bill on the proposed tax slash is expected to be laid before the House on Thursday 5 March 2009. It is expected that the drop in taxes will ensure a reduction in the prices of petroleum products.
Dr Duffour said the government will be committed to pursuing this agenda in keeping with the campaign promise of the National Democratic Congress (NDC) to reduce the high cost of fuel and its attendant impact on the standard of living of the citizenry.
At a budget reading that was punctuated with bouts of boos and cheers from the Minority and Majority sides respectively of the house, the minister chronicled a series of measures to create what he said would be "a better Ghana" by the end of this fiscal year.
He said the government led by H.E. President John Mills is ready to tackle the country's economic challenges to better the standard of living of the people.
Dr Duffour said the country now stands at the crossroads and requires all hands on deck, stressing "this is no time for procrastination."
He announced a merger of the three revenue collection agencies: Customs Excise and Preventive Services (CEPS), Value Added Tax (VAT) and the Internal Revenue Service (IRS).
He said the fusion of the three bodies will ensure efficiency in revenue collection and reduce administrative cost.
Also high on the agenda was the budget deficit which he said would be reduced from the near 15% to 9.4%.
He however cautioned that "the path to reducing the deficit is not going to be easy."
Dr Duffour also mentioned the creation of a single treasury account for government institutions. This, he explained, would ensure prudent and efficient cash management as government will be able to identify as well as track public funds and expenditure.
The Mills' government will also strive for a single-digit inflation, Dr Duffour said, within the "short to medium term." Inflation currently stands at 19.5%.
He said the National Health Insurance Scheme (NHIS) would also be reviewed. The Finance Minister said although the system has been in operation for some time now, there is the need to heal it of its inefficiencies.
The budget statement also touched on other issues such as the construction of roads, supply of potable water as well as education which the Finance Minister indicated, would see massive improvements this year.
Story by Fiifi Koomson