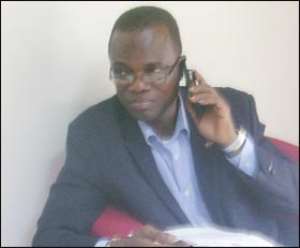 Edward Collins Boateng - GEPC Expectations of abundant salt have been boosted with a reported estimate of several millions of metric tonnes of the commodity in Ghana.
According to a research carried out by Sidhi Consultants and supported by the Commonwealth Secretariat, the Songhor Lagoon alone boasts of an annual 1.438 million metric tonnes of salt.
Presently, Ghana produces only 250,000 metric tonnes annually, which is worth an estimated 2.558 million dollars from the production potential of 2.2 million metric tonnes of salt annually.
The world demand is 256 million metric tonnes with China leading the league of producers with 50 million metric tonnes.
At a workshop organized by the Ghana Exports Promotion Council in collaboration with the Private Enterprise Foundation (PEF), the salt industry was identified as holding a key to tackling the unemployment problem in the country since the country's salt is unique.
Collins Edward Boateng, CEO of GEPC called for concerted action from policy makers to accelerate the pace of the sector's development.
He added that there were challenges such as that of land acquisition. "There would also be the need to develop innovative approaches in mobilizing individual production units in order to increase economies of scale."
Estella Aryada of the Commonwealth Secretariat, on her part said there was the need to look out for a niche market to expand the salt business, adding that the salt industry should not be seen as business as usual since the production had the potential to help in the eradication of poverty.
The GEPC in collaboration with PEF requested the Commonwealth Secretariat to define a framework to guide the development of the salt sector to enhance its exportation. Consequently, a team of consultants embarked on a process, which included on-site assessments, interviews, meetings and market analysis.
 The draft strategy, which was the subject of discussion at the workshop, would be submitted to government for implementation. The consultants said the strategy isolated the different categories of salt producers on the basis of their volume, scale of operation and growth potential and also recommended actions to be taken at various levels.
They said the strategy also intended to set realistic targets to increase volumes, incomes and productivity by developing more innovative approaches in mobilizing individual production units to increase economies of scale.
By Charles Nixon Yeboah