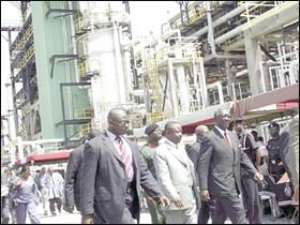 President John Evans Atta Mills has said his government inherited an overall national debt of more than $7 billion from the Kufuor administration. He said both the Tema Oil Refinery and Volta River Authority owe close to $2.6billion.
In his maiden State of the Nation address, he said the country's economy sounds very unpleasant but looks promising in the future. He said over the last month his economic team has been vigorously and painstakingly reviewing the situation of the economy.
PRESIDENT Atta Mills however expressed his administration's commitment to bringing the fiscal excesses of the country under control to create prosperity for all Ghanaians.
He disclosed that Ghana's fiscal deficit reached GH¢2.5 billion ($1.8 billion) last year, or about 15 percent of gross domestic product (GDP).
"In layman's terms, we have spent a great deal than what we earned," he remarked.
Highlighting the fundamentals of the current economic status and predicament, the President said the country spent more money on foreign goods and services than it earned since the external deficit was estimated at GH¢3.42billion or 18 per cent of GDP with the rate of inflation accelerating from 12.7 per cent at the end of 2007, to 18.1 per cent at the end of December last year.
"In the space of two years between 2006 and 2008, our stock of external debt increased from $2.2 billion to $3.9 billion. This contributed to an increase in the overall national debts to $7.6 billion in 2008, from $5.3 billion in 2006.This is in spite of the over $5 billion debt write off enjoyed by the nation from 2001."
Over the past few months, the President hinted, the cedi lost substantial value with respect to the US dollar, a situation he attributed to the delayed effects of excessive spending and trade imbalances the country experienced since 2006.
He was however quick to add that the cedi maintained its value for sometime because Government used  foreign exchange resources which accrued from debt relief arrangements to shore it up.
The President related how he assumed office at a time of heightened anxiety and insecurity in the global economy and remarked that "no nation can traverse these hard times alone, nor can we blame any single individual or government for causing this". He therefore implored all and sundry, particularly the legislature to join him in managing this period of economic difficulty saying, "I assure you that we shall all benefit when the good times come, as they surely will. I am optimistic that the burden of sacrifice, if properly shared, will result in great opportunities and progress for the people of this country."
By Sheilla Sackey and Awudu Mahama