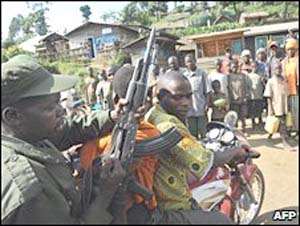 Gunmen A Rwandan Hutu militia, being hunted by a joint Congolese-Rwanda force, has killed more than 100 civilians in the last month, say officials.
The FDLR killed nearly 60 people in eastern Democratic Republic of Congo between the end of January and mid-February, say UN peacekeepers.
And Rwandan officials say the FDLR have killed almost 50 people this week.
The joint force said on Wednesday it had achieved 95% of its objectives and Rwandan troops would leave next week.
Correspondents say the FDLR's presence in eastern DR Congo lies at the heart of the region's instability.
Leaders of the ethnic Hutu militia, estimated to be more than 6,000-strong, have been linked to the 1994 Rwandan genocide.
Patrols doubled
The UN Mission in the Democratic Republic of Congo (Monuc) said on Thursday the FDLR had killed 56 civilians and injured another six while razing villages around North Kivu province.
Fleeing people told peacekeepers the attacks had occurred between 28 January and 15 February.
Monuc spokesman Madnodje Mounoubai told the BBC's Great Lakes Service that the peacekeepers had responded by more than doubling their patrols in the area.
Meanwhile, Rwandan military spokesman Maj Jules Rutaremara told the BBC that the FDLR had killed another 47 people since Monday alone.
Former enemies DR Congo and Rwanda teamed up at the end of January to hunt down and disarm the Democratic Forces for the Liberation of Rwanda (FDLR).
There are thousands of Rwandan troops in North Kivu but they are deeply unpopular after occupying eastern DR Congo from 1998-2002 along with Uganda.
In recent years, Rwanda's western flank was guarded against attacks from the Hutu militias by Congolese rebel Laurent Nkunda.
But the Tutsi rebel leader was arrested in January after being invited by Rwanda to discuss the joint military campaign against the Hutu forces.
Members of Gen Nkunda's National Congress for the Defence of the People (CNDP) group are now being integrated into the Congolese army after splitting from his leadership prior to the joint force's advance into North Kivu. On-and-off fighting involving the CNDP, FDLR, the army and pro-government militias has forced more than one million people in North Kivu to flee their homes since late 2006.