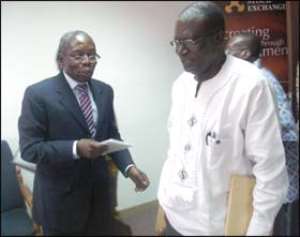 Kofi Yamoah (L) in a chat with Mr. Aye Kusi SHARE PRICE of listed equities has been on a downward side since the last quarter of 2008 till now and investors, both existing and new, have refused to acquire them though some analysts predict that it may be the right time to acquire them.
Kofi Yamoah, Managing Director, Ghana Stock Exchange (GSE) also shared similar sentiments in a chat with CITY & BUSINESS GUIDE, urging prospective and existing investors to acquire more shares in order to increase ownership in these listed equities.
According to him, most of the listed companies' price earning ratio had reduced ranging from 6 to 10 percent, hence new and old investors should take advantage of that and buy fresh and additional shares.
Some analysts predict that the market corrections which have seen equities such as GCB, CAL and GOIL declining from 90Gp, 60Gp and 40Gp to 75Gp, 45Gp and 30Gp respectively as at last week Friday might bounce back by June.
Mr. Yamoah said though the capital market was not doing well now, it would bounce back sooner than later.
The Accra Bourse has been on the downward side since the beginning of this year with the year-to-date return at a negative.
Mr. Yamaoh also urged listed companies to amend their regulations to pave way for the automation of the trading platform.  "At the end of this month, we are hoping to go live with trading on the stock market with brokers trading from their various offices, hence the need."
The companies will require shareholders' approval during their annual general meetings (AGM) expected to take place soon.
The GSE has commenced electronic projects including depository system, clearing and settlement system and automation of the trading platform that will raise its standard into an international one.
While the depository system which will require every investor to open an account will eliminate the risks associated with excessive paper work in post-trade as well as processing and registration, the automation system will enhance liquidity on the market as well as improve general trading on the exchange.
Meanwhile, some listed companies mostly manufacturing firms have released quite exciting financial results for the year ending.
Nevertheless, the results, according to some stock analysts, would not change the bearish state of the market for now because of the global financial crisis where markets globally have not been faring well.
While Produce Buying Company (PBC) bagged GH¢149.616 million as turnover for the last financial year as compared with GH¢80.511 million in 2007, Benso Oil Palm Plantation (BOPP) recorded GH¢20.589 million as compared with GH¢13.115 in 2007 and Guinness Ghana Limited (GGBL) realized GH¢93.551 million for the half year as compared with GH¢76.107 last year.
Significantly, shareholders' fund of PBC, BOPP and GGBL grew from GH¢6.369 million, GH¢16.703 million and GH¢66.34 million to GH¢9.819 million, GH¢19.984 million and GH¢68.204 million respectively.
By Charles Nixon Yeboah