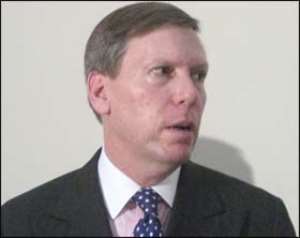 Todd Stitzer The Cadbury Cocoa Partnership initiative is now active in 100 Ghanaian communities, Chief Executive Officer of Cadbury plc, Todd Stitzer, has said in Accra.
Mr Stitzer was in the country last week to check on progress made since the launch of the cocoa partnership last year.
The ₤45-million Cadbury Cocoa Partnership is meant to help improve the livelihoods of the Ghanaian cocoa farmers.  
Research by the Institute of Development Studies, Sussex, and the University of Ghana, Legon, into Sustainable Cocoa Production in Ghana, funded by Cadbury, showed that the average production for a cocoa farmer has dropped to 40 percent of potential yield and that cocoa farming has become less attractive to the next potential generation of farmers.
With western confectionery companies being under pressure from high commodity costs, Cadbury is aware that protecting cocoa suppliers in Ghana is vital in order to keep margins high.
It was against this background that the confectionary company in collaboration with the United Nations Development Programme launched the partnership to improve cocoa production and also help attract the youth into cocoa farming.
Since its launch last year, the partnership has been investing in Ghanaian farming as part of a 10-year ₤30 million commitment to secure the future of cocoa farmers and their communities.
Mr Stitzer stated:
"I am delighted to be here to witness at first hand the progress made by the Cadbury Cocoa Partnership in its first year.  I am confident our work will help secure the economic, social and environmental sustainability of thousands of Ghanaian cocoa farmers".
The Chief Executive Officer of Cadbury plc who was in the country for a two-day working visit, paid a courtesy call on President John Evans Atta Mills.  He also paid a visit to the Cocoa Research Institute of Ghana at Tafo and some cocoa growing communities in the Eastern Region.
By Felix Dela Klutse