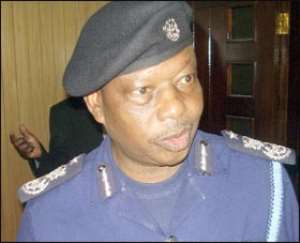 Emmanuel Doku The Customs, Excise and Preventive Service (CEPS) has delivered to government a total of GH¢1,930.03 million, in excess of a budgeted revenue target of GH¢13.63.
Emmanuel Doku disclosed the above during the 9th National Awards ceremony of the service in Accra, an activity which drew staff from the various collections of the revenue agency.
Themed, "Enhancing Revenue Mobilisation-The Way Forward", the ceremony offered an opportunity for the Commissioner to recount both the progress and challenges encountered by the service in 2008.
He noted that last year, CEPS organized a number of sensitization workshops through stakeholder forums at various collection points as a way of serving its stakeholders better.
Casting its focus on the New Year, he observed that the service will see a consolidation of the achievements of 2008 and the implementation of new initiatives.
Management, he said, would give priority to staff welfare and career development, adding, "We will focus on the enhancement of staff effectiveness, satisfaction and career opportunities."
Towards revitalizing the human resource base of the service, he announced that the terms and conditions of service would be reviewed.
CEPS intends scaling up cooperation to enhance information and data sharing for the purpose of widening the tax net, and towards this end Mr. Doku disclosed, "CEPS will continue to conduct a regulatory and administrative review of integrated systems that speak to each other across tax types and different databases."
Continuing, he stated that CEPS would embark on what he described as significant business re-engineering processes at all ports of entry to accelerate the clearance for low risk shipments and passengers.
Concerned about the image of the organization, the CEPS Chief laid out four priority areas for 2009, namely enhanced revenue collection, enhanced quality service to stakeholders, modernization of internal processes and revitalization of workforce. He saluted award winners for their commitment and high sense of duty.
Awards were in the best collection, most improved collection, most ISO compliant collection and most improved unit at headquarter.
There were also awards for the overall best junior and senior officer categories including a Commissioner's Special Awards.
Prince Collector Lawrence Annan of the Kotoka International Airport Collection attracted the overall best staff in the senior division.
The  honours included cash, citations and gas cookers with the GCNet contributing immensely towards the function.
By A.R. Gomda