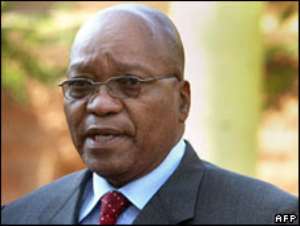 South Africa's highest court has rejected the ruling party leader's application to challenge a ruling on graft charges as it was made by e-mail.
Jacob Zuma's lawyers missed Monday's deadline to file the physical paperwork with the Constitutional Court.
He is seeking permission to challenge a ruling which allows state prosecutors to reinstate charges against him in connection with a 1999 arms deal.
Lawyers will now have to appeal to the judges to make a late application.
Mr Zuma remains the front runner for president as the candidate of the ruling African National Congress (ANC).
His appeal is expected to drag into the campaign for South Africa's general election due in the coming months.
He denies the 16 charges of corruption, money-laundering and racketeering which stem from a controversial $5bn (£3.4bn) arms deal in 1999.
Rules at the Constitutional Court say that 25 hard copies of an application plus one electronic copy must be filed at the court by the deadline.
Last year, Mr Zuma won a reprieve on the corruption case on a technicality from a lower court, but the Supreme Court overturned that ruling in January.
According to the South African Press Association, state prosecutors are set to take up their case against Mr Zuma in the Pietermaritzburg High Court on Wednesday.