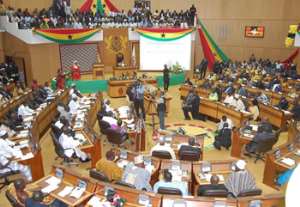 The Appointment Committee of Parliament would on February 6, 2009, begin vetting President John Mills' nominees for ministerial appointments.
Messrs Alex Tetteh Enyo, MP for Ada (Minister-designate for Education) and Cletus Avoka MP for Zebilla (Interior Minister-Designate) are among the first five nominees to test the drill when the process gets underway the coming week.
Topical issues on the drug menace and the possible review of the new education reforms are expected to be high on the agenda when they meet the vetting committee.

In an interview with Joy FM's Parliamentary correspondent, Araba Coomson, Hon Edward Doe Adjaho, First Deputy Speaker said Parliament is counting on the general public to provide information on any of the nominees to help the work of the committee.
He also called for a debate for a possible amendment of the constitutional provision which mandates the president to pick more than 50 per cent of his ministers from parliament.
He feared the provision could spell doom for the country in the event of one party winning the presidential elections and losing the parliamentary elections only to become the minority in parliament.
He said the scenario will be worsened if an independent candidate should win the election.
Meanwhile the minority in parliament has dismissed assertions that they would subject the nominees to unnecessary scrutiny.
Hon. Osei Kyei Mensah-Bonsu, Minority Leader in parliament told Joy News whatever will be done would be in the interest of the country.
He said the minority in a collaborative endeavour with the majority will conduct due diligence on the nominees.