Letter to Mr. Asamoah Boateng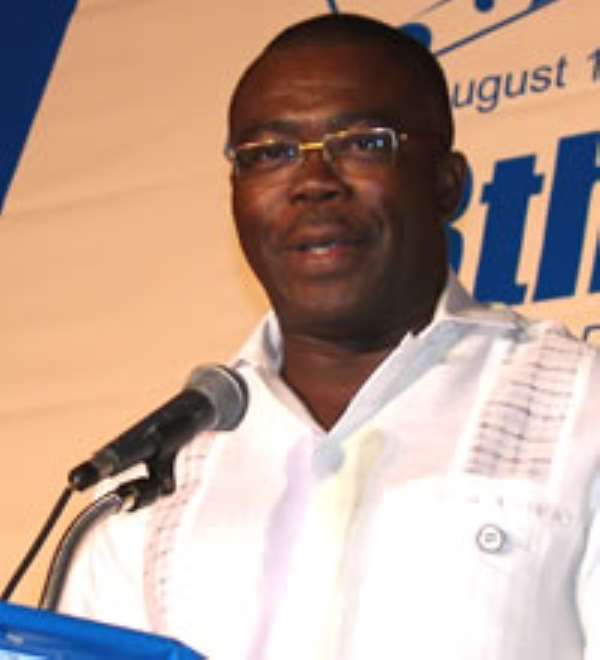 Dear Sir,
Honourable Stephen Asamoah Boateng,
Office of the President,
Osu - Accra.
Mr. Minister, as you are aware, I have never been a great fan of yours so I am sure you would find it very strange to receive a letter from me. But the salutation on this letter should tell you that I do not hate you.
On July 16, I published a piece in which I suggested to the President of the Republic of Ghana to dismiss you. In my article titled, "Please Sack this Kokonte Minister," I demonstrated to readers that you had become too arrogant.

Four days after my article was published, a yes-man of yours, Mr. Alhassan Atta-Quayson, published a rebuttal. Mr. Minister, I can tell you for a fact that that writer was the final person who led you to the hangman's noose!
Sir, I had decided to keep my original letter secret till the day you come back home – the day you are reduced from an uncontrollable tax spender to a taxpayer! But alas, the day is here with us – you have been walloped!
The day I heard you tell all of us Ghanaians to go eat 'Kokonte' and groundnut, I felt so bad. That feeling was not because the traditional Ghanaian dish was that bad, but rather because your reference was demeaning!

Mr. Minister, when you came down from Britain, you were very ordinary. You demonstrated that you were a people's man! That was why my uncles at Mfantseman, loved you!

But from the day you decided to make Mr Hodari Okine, former Director of the Immigration Service jobless, courtesy your power and thus condemn him to perpetual hunger by making sure that even his forced retirement benefits were not given him, I knew you had started digging your grave.
Sir, I was even more startled when you decided to conduct the constituency primaries at Mfantseman and installed yourself winner. What shocked me even more was your claim that if your opponent had any issues with the primaries, he should meet you in court.

Well, I know that you were right in telling your opponent to go to court because knowing how much power you had, to the extent that you could disobey court rulings, the man you 'defeated' at the primaries was just wasting his time by going to court! We know you too well. Your contender would lose the case or even if the judge makes a mistake by ruling in his favour, you would disobey the order.

Mr. Minister, another day, I heard you in an interview with Kojo Oppong Nkrumah of Joy FM. In that interview, you again demonstrated that your arrogance was simply unmatched. You told all Ghanaians in that interview that 'they don't understand English.'

I wondered if you were a linguist. I am aware that you did an MBA. You also lived in Britain – all of the above do not make you an expert linguist! So, I was just wondering why you would refer to people who disagree with your position with a demeaning phrase?
I also heard you on yet another talk programme, claiming that everybody who disagreed with your points on the performance of the economy did not vote for you. I quote, "who even said you voted for us anyway?" That was the expletive you used on an NPP supporter who strongly disagreed with a point you had made.
Sir, a day after you were declared loser of the Mfantseman West parliamentary polls, I decided to speak to my uncles in the area. It would be instructive for me to quote my uncle for you, "Asabee was always with us, but as soon as he became MP and later minister, he became so arrogant – he carried himself like a god. So we just waited impatiently for the polls to show him who had the power".

Sir, now you are on your way to joblessness. In fact, as I write you this letter, you are already redundant. The election fever and your bitter but expected loss has sobered your spirit and I can bet that you aren't in the mood to make anyone of those your usually harsh comments on radio!
We gave you the privilege to serve us. But you used it to insult us. You used your position as a staging post to verbally tyrannise us. Instead of using your position to create jobs, you rather used it to make your perceived political opponents jobless, save the few scores of the party police you conscripted.

Your radio and television appearances were moments of terror to many. You made sure you broke our hearts anytime you got on radio. Your moments with power only rewarded us with broken promises!
Now that you have lost your parliamentary job and in the event that your candidate doesn't win the presidential, you would then have automatically lost your ministerial job – double jeopardy maybe!
You would then lose the privilege of taking double pay. Interesting! You would now begin to realise it when the prices of commodities are going through the roof.

Sir, you are going to begin buying gas from the same pump like myself! You are also likely to lose the luxury of riding in SUVs on all the bumpy roads! You are going to pay taxes just like we all do! You'd lose your armed guard – and you'd then guard your utterances!
Sir, you see, the elders say that whatever goes up comes down. It's also said that if you've never been hungry, you'd never appreciate it when somebody is even famished.

Well, you are now virtually jobless and in case you are looking for a job, feel free to let me know. I'd help advertise you. Because I think you need a total re-branding. You need total image makeover. I'd offer you free service – but that's if you're ready to take the truth, bitter as it may be.
Sir, once again, I want to say that you are welcome home. I hope the next time you get the opportunity you would operate with greater sobriety? And please in case you meet Mr. Elemebele Mugabe, kindly tell him that I would meet him at that popular square at Teleku Bukazo. I hope this meets you well.
Your Employer and Citizen,
Kwabena Mprah Jnr.
Email: [email protected]
Cc: All Citizens of Ghana