Letter to The President: Don't sell this house to Jake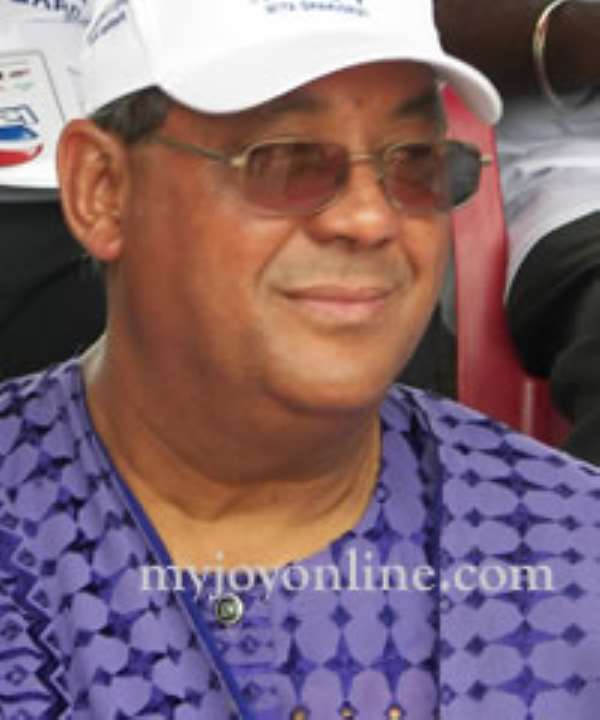 President of the Republic of Ghana,
HE John Agyekum Kufuor,
Accra – Ghana.
Dear Sir,
Your Excellency, I have never written any letter to you since you became President of the Republic of Ghana. Several things have happened, some ugly, some good, under your stewardship, but I have never had the chance of writing to you directly.
However, I think a developing story which has saddened my heart over the past few days, needs redress from you before you pack out of the elegant Flag Staff 'Golden Jubilee' House within the next four weeks. Sir, this is why I have decided to write you this letter.
A few weeks ago, I heard a very intriguing story on an Accra-based radio station. Your Excellency, the radio station reported that Jake Otanka Obetsebi-Lamptey, a former minister of various portfolios in your government but who is now jobless, has proposed to purchase the official residence which was allocated to him in 2001.
Indeed, because some of the radio stations are fond of needless sensationalism, I dismissed the story outright. Then on Saturday, November 22, 2008, I decided to go through the classified ads column of the Ghanaian Times newspaper and I was hit by what I would call a scandalous publication on page 18 of the newspaper.
Mr. President, I am aware that at this moment, you have one too many things on your plate, and of utmost importance is your task to make sure you get an acceptable successor to occupy your palace, through a transition that would see our Motherland in one piece after your departure.
Sir, for your information I would plead to quote appropriate portions of the said publication.
The publication is titled: "Notice of Application for Registration of Title to Land" The main text read: "Take notice that Hon. Jake Obetsebi-Lamptey of Accra has applied to be registered as proprietor of the under mentioned land granted by the President of the Republic of Ghana and that I intend to register him as proprietor of the said land if no objection is lodged to the registration in accordance with regulation 54 of Land Title Registration Regulation, 1986 at the Land Title Registry, Victoriaborg, Accra before the expiration of the fourteen days from the date of this notice."
"The land referred to is Parcel No. 29; Block 12; Section 019 in extent 0.42 Hectare (1.04 Acres) more or less situate at Ridge in the Greater Accra Region of the Republic of Ghana as delineated on Registry Map No. 003/019/1988 as submitted to the Land Title Registry, Victoriaborg, Accra. It is leasehold. Lodgement No. 07707/2008."
Your Excellency, I don't wish to bore you with too much information, but I believe what I quoted above is enough testimony. The Registrar of Lands even had the impudence to attribute this scandal to you!
From what I know, the house or property which is being offered for sale to Jake, the now jobless former employee of yours, also served as his official residence during those days he was minister! But Jake has refused to vacate the minister's bungalow although he was sacked by you for his inordinate ambition of wanting to succeed you as President!
Well, I am also aware Mr. President, that as soon as Jake moved into the house, he said that the property was not up to his class. So he ordered that new glazing be done with sliding doors and other expensive fixtures to fit his new status.
Many Ghanaians questioned why that renovation needed to be done at the time given the backdrop that you and your ministers convinced the voters that your predecessor government had emptied the coffers. But Jake went ahead to reconstruct the property to suit his oligarchic taste.
I want to believe that Jake knew very well that he was going to vacate the residence if ever he was given the sack by you or if another party was voted into power. But Jake continues to live in the house till today.
Your Excellency, I am also surprised by Jake's overtures to personalise our state property because as minister, he took reporters from Ghana Television to go and film the forcible eviction of some ministers in the previous regime from their official homes – for overstaying their due.
As much as I am aware, your party espouses a property-owning democracy. But whatever that means and its relevance to modern-day democracy can be the subject of another letter I intend writing to you when you become an ex-President and join your predecessor to form the Association of Former Presidents of Ghana.
But if it is true that the property is now being sold to Jake with your consent, then just like the Land Title Registrar requested, I OBJECT to the sale, Mr. President!
You have carried out many fire sales of some of the most treasured assets of our land as though the Armageddon was fast approaching and that everything in sight must be given away because there is no tomorrow.
I am aware that the rightful owners of the Accra lands have been giving you sleepless nights over some of their lands that have been sold to your minister friends. I am also told that you have given away some of the properties of the former Ghana National Trading Corporation (GNTC) especially those prime properties at Ridge, to your friends.
But Mr. President, as for this property situate at number 29, Ridge in Accra, do not sell it to Jake. If former officials who occupied the said property or similar ones had bought them because of ministerial privileges, would Jake and your brother Kwame have gotten decent places to stay?
Your Excellency, if you ignore my plea and go ahead to sell this estate to the unemployed Jake, I promise you this would be the biggest mass grave you would have dug for Jake and yourself.
Please Mr. President there are some things that must not be sold. What if my father had managed to acquire the land, on which you have built your presidential mansion, pulled down the houses that housed Nkrumah and built a shopping mall? Would you have been able to build your palace there?
What if Nkrumah had decided to acquire the Peduase Lodge under an Executive Instrument and turned it into a family house?
What if Mr. Rawlings, the man you keep seeing in your nightmares had decided to buy the Peduase Lodge and turned it into a pleasure garden for his family?
You see Mr. President I think you and your friends have taken this property-owning democracy too far. If you go ahead and sell this property to Jake, I would call it stealing in the name of property-owning democracy. Such sale would also amount to one of the biggest crimes you would have committed against the people of Ghana.
Please let's stop this now! Ghana exists after your presidency and I want to believe that you don't want us to go cup in hand to the Breton Wood institutions to borrow money and start building ministerial bungalows when you leave office.
Mr. President, I hope you'd take my humble plea? That house must not be sold to Jake! If he thinks he needs a house with the same architecture, he should go and build his own.
Thank you and I hope this meets you well.
Your Citizen,
Kwabena Mprah Jnr.
Email: [email protected]
Cc: Rebecca Sittie (Mrs.)
Chief Registrar of Lands – Accra

All Media Houses