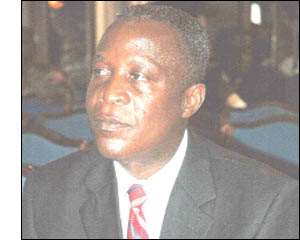 I definitely have to express my heartfelt tribute to one of my finest role models, Hon. Kwadwo Baah-Wiredu, the late Minister for Finance and Economic Planning and Member of Parliament for Asante Akim North Constituency.
Hon. Baah-Wiredu, a visionary leader who was pertinacious in the pursuit of fruitful goals, made everyone at his workplace felt that he/she belonged to his team and that everyone's contribution was vital to the team's overall achievement.
Humility, hard-work, selflessness and openness being Hon. Baah-Wiredu's hallmark, were infectious on everyone who interacted with him.
He instituted the Hall of Fame project to perpetuate the memories of the nation's outstanding sporting heroes, administrators and coaches among others, leading to the formation of the Retired Footballers Association (RENFAG).
Hon. Baah-Wiredu got a lot of rave reviews while wholeheartedly serving mother Ghana, especially when he named sports facilities like the national stadia, sports halls and stands after some distinguished sports personalities.
Also, he revived the national sports festival and the Security Services Games (SESSA GAMES), justifying his resourcefulness which branded him a utility personality.
He was very keen on the Hall of Fame project, underscoring the symbolic and intrinsic value of honouring those whose selfless contributions had made Ghana sports great in the past, apart from serving as a strong foundation of inspiration to the younger generation to take active sports with the aim of striving for excellence.
He stressed that the well-established Hall of Fame will undoubtedly serve as a source of revenue-generation, and a tourist attraction which will eventually be a focus for both the old and the young and even foreigners.
He was keenly interested in the project to the extent that even after leaving the Education, Youth and Sports Ministry to that of Finance, he still followed up, making enquiries about what was happening and offering pieces of advice on how the project would indeed come to be established as he envisaged it.
Hon. Baah-Wiredu was poised to commission the Hall of Fame before the end of this year, but unfortunately he could not live to see his pet project come to fruition, as he died in far away South Africa, on September 24, 2008.
The late Minister was poised to restore Ghana sports to its former glory, a vision which led him to spearhead a delegation to Cairo to guarantee Ghana's right to host the 26th Cup of Africa Nations (CAN) 2008.
The Finance Minister, Hon. Baah-Wiredu ensured that there were funds to renovate the Ohene Djan and Baba Yara Sports stadia, in Accra and Kumasi respectively, and also construct new stadia in Tamale and Sekondi.
Significantly, Hon. Baah-Wiredu's death has taught all and sundry that humility, friendliness, selflessness industriousness are qualities everyone must possess.
It is my prayer that God will give us more people with qualities like those of the late indefatigable Baah-Wiredu. Hon. Kwadwo Baah-Wiredu, rest in peace; your name will never be forgotten.
Isaac Franklin National Sports Council