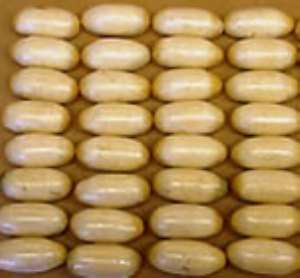 Reports emanating from the Liberian capital, Monrovia say about nine Ghanaian nationals were found guilty in a 500 Million United States Dollars drugs trafficking case involving a discovery of 2.4 tons of cocaine.
The case, led by a 12-member jury at a criminal court at Liberia's Temple of Justice was decided last month in Monrovia. The panel brought down a unanimous verdict of guilt against the men who were arrested on board the Blue Atlantic vessel.
The men were therefore charged with cocaine trafficking worth USD$500 Million following final arguments between state and defense lawyers.
Though defense lawyers headed by Cllr.Charles Abdullah appealed to the Supreme Court of Liberia, crew members Oteng Akrasi Osei, Robert Adjei, James Addy, Joseph Agbo, John Amewa Kofi, Mamah Dramani, Gibrill Ayoub, Henry Coleman and Richard Mensah were charged.
Realistically though, this would not have come to light had the French naval vessel not intercepted the Blue Atlantic on High Sea in January and forced it to berth at the Free Port of Monrovia.
The arrest and subsequent charge of the Ghanaians may come as no surprise at all. Since the Liberian civil war ended in 2003 with the forceful departure of former Liberian leader, Charles Taylor, thousands of other West African nationals particularly Ghanaians continue to migrate to Liberia on a daily basis.
And with that has come its resulting consequences of malpractices. Liberians have seemingly never been much more a people fond of Cocaine consumption. What has been on the rise though is Marijuana .And the Ghanaians might have been on their way using Liberian waters as a transit point.
But there are fears that Liberia might soon be notorious for cocaine trafficking .Cocaine trafficking is relatively new to Liberia and because it is very lucrative, it could become an economic oasis for struggling Liberians seeking fast cash.
The economic fabric is devastated and many can't afford to feed themselves and notorious drug lords aware of this volatile situation will exploit it to their benefit.
Furthermore, Liberia is not equipped enough to combat the massive flow of drugs through its territorial waters. Corruption, it is alleged, is also a major factor that would propel this trade to another level in Liberia.
Even in Ghana itself, political leaders as well as citizens are very much concern about drug trafficking and armed robbery incidents that have plagued their country. Though drug trafficking structures have been put in place at the country's largest airport, drug barons are also devising new mechanisms to outwit security agencies at the Kotokia International Airport (KIA).
One of the Ghanaian local dailies, The Enquirer Newspaper reported in recent times that drug barons use students in various tertiary institutions in the country to serve as their couriers since the barons are having hard times using their own couriers.
The paper alleged that female students especially are recruited on a regular basis to serve as couriers to the United States and other parts of Europe because students are very easy to get visas from various embassies to vacation abroad during semester breaks.
The Enquirer also reported that successful couriers are paid between USD$6,000 and $8,000 depending on the destination. Knowing fully now that such is the case in Ghana, our fear is that this practice would soon be introduced to Liberia because not just students in our schools are having hard times making end's meet, civil servants are also.
The initial enticement of just about USD$1,500 can draw as many Liberians into perspective couriers as possible, just as it has done in nearby Ghana.
What Liberians and friends of Liberia need to know is that, Ghana's parliament is one of the arms of government that has seriously suffered an image crisis.
On November 12, 2005, then Member of Parliament, Eric Amoateng was arrested in the United States and jailed for drug trafficking. As a politician and now former Member of Parliament, he brought stigma to Ghana and its people.
He had traveled to the USA on an Emirates Airline flight to the John F. Kennedy (JFK) with a friend, Nii Okai Adjei. The trip was ostensibly to buy wrist watches for resale in Ghana with US$9,000 seized from Amoateng.
Seven boxes of pottery which had landed at Newark Liberty International Airport from London, destined for JFK a day earlier were found to contain 136 pounds of heroin.
The reported street value of the drugs was about US$6 million. Amoateng and Adjei were monitored by security personnel as they took delivery of the cargo and sent it to an American Self-Storage location on Staten Island, New York.
They were arrested the next day when they went to inspect the goods. Amoateng apparently unsuccessfully claimed diplomatic immunity following his arrest. They were charged with "conspiracy with intent to distribute heroin".
Eric Amoateng and Nii Okai Adjei initially pleaded not guilty to the charge of conspiracy to distribute narcotics when brought to court. However, Adjei later changed his plea to guilty. Following this, a second charge was brought against Amoateng.
In August 2006, a third charge of "distributing a controlled narcotic substance of about a kilogram or more containing heroin" was brought against Amoateng.
On March 19, 2007, Amoateng changed his plea to guilty. He was sentenced on 12 December 2007 to 10 years in jail.
With its porous borders, lax policing and a cheap black-market labor force, West Africa is increasingly attractive to South American drugs cartels, keen to throw police off their scent as they pump cocaine into Europe.
Last month, West Africa's civil Society organizations(CSO) lamented the growing trend of drug abuse and related problems in the region and urged the ECOWAS Commission to take the lead in mobilizing resources to curb drug trafficking.
In a one-day meeting to review the draft regional response action plan and political declaration on drugs, held in Praia, Cape Verde on Oct 26, CSOs said the involvement of the regional body, ECOWAS will help address the dearth of resources in the region to fight the drug menace.
But it remains to be seen how far this fight will go since ECOWAS itself has got numerous projects to implement with limited resources.
The Liberian government will have to be very serious about ensuring that all foreign nationals immigrating to Liberia during these critical times of the country's reconstruction era, are properly documented and accounted for.
Let the laws of our land deal drastically with the Ghanaians who have been arrested so that it could serve as a deterrent for would-be drug traffickers.
Though they have been charged, nobody knows what could happen under the cover of darkness as many Ghanaian nationals make decisions at high levels in Liberia since Liberia is not able to govern itself now or at least for as long as International Peace-keepers are still making both civil and military decisions on behalf of Liberia and Liberians.
If nothing of such is fully implemented, then, like Ghana, which has been notorious for drugs trafficking, Liberia will follow suit and might even be worst than Ghana.
Credit: Semantics King Jr, Minneapolis
Source: Newliberian.com