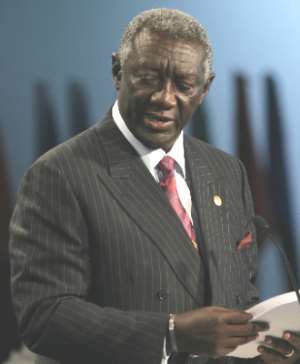 H.E. President John Agyekum Kufuor
President John Agyekum Kufuor yesterday inaugurated the 116 kilometre Mallam-Yamoransa Highway rehabilitated at about 80 million dollars.
The project, executed in three phases, is funded through a Japanese Government grant of 54.6 million dollars, and a World Bank loan of 18 million dollars and Ghana Government counterpart funding of GH¢ 8.9 million.
The 18 kilometre Mallam-Kasoa section is a three-lane dual carriageway from Mallam Junction to Dunkonaa, and a dual carriageway between Dunkonaa and Kasoa, tapering into a single-carriageway from Kasoa Junction.
President Kufuor expressed concern about the temporary structures within the 60 metre prohibited zone of the road which DO not augur well for its future expansion and called for an immediate end to the encroachment.
He directed Metropolitan, Municipal and District Assemblies to ensure strict monitoring to prevent people from erecting illegal structures within the zone.
President Kufuor said to prolong life span of the road and enable the country derive maximum benefit from the investment, vehicle operators who exceed the approved axle load of 11.5 tonnes should be prosecuted.
An axle load weighing station has been built on a section of the highway at Elimina.
He expressed concern about the increase in road accidents caused by over-speeding and disregard for traffic safety signs.
Mr Keiichi Katami, Japanese Ambassador to Ghana, said the project is a testimony of the deep friendship and co-operation between Ghana and Japan.
Ms Kathrine Bain, Ghana Country Programme Manger of World Bank, said there is a direct relationship between good roads and quality of life of the people.
Dr Richard Winfred Anane, Minister for Transportation, noted that completion of the road has resulted in tremendous economic benefits.
He said it has reduced travel time between Accra and Cape Coast from three hours to two hours on the average, brought down vehicle operating cost and enhanced safety and reliability of the road.