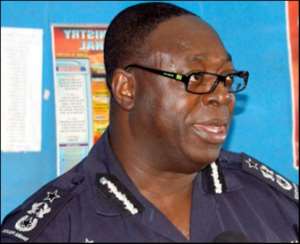 Today security chiefs are meeting to give a critical and final look at how to manage the forthcoming polls in the country, an engagement which we consider fantastic and welcome.
We are particularly thrilled about the mock exercise planned as part of the overall strategy.
There is no doubt that the security agencies play a critical role in any elections especially in our part of the world and so their preparedness for the nation's polls cannot be over-emphasised.
Whether we like it or not, politics which should not be considered a life and death affair is being regarded as such by some elements on the political terrain.
It is these persons who see politics through this lens who are ready to shed blood to achieve their ultimate aim of achieving power.
As they confer to cross the 'T's and dot the 'I's in the strategy for managing the polls, we ask that the security capos particularly draw special arrangements for flashpoints throughout the country.
We are convinced that as the security chiefs do that some mischievous elements are intent on engaging the gullible and underdogs in society to create strife in order to discredit the elections.
Such persons should be stopped in their tracks before they do collateral damage to our fledgling democracy.
We ask that troop surge to such places must be considered as a matter of urgency on Election Day and shortly after. We are aware of the shortage of manpower and the possibility of even engaging such service personnel in the Fire Service, Immigration Service and even CEPS for Election Day duty, but then management is all about deriving maximum dividends from available resources no matter how small.
In Accra, the Agbogbloshie Market, which was scene of a riotous behaviour, recently could burn again when we go to polls on December 7 if adequate security arrangements are not put in place to obviate any such development.
As for the hoodlums they are in abundance at this market and available for grabs by mischievous politicians who do not give a dime if Ghana burns.
We have gathered that when the New Patriotic Party (NPP) organized a function at the Indepenedence Square a few days ago some killjoys attempted spoiling the broth through unruly behaviour.
This is a pointer at the fact that some people have already been engaged to do all they can to create mayhem during the polls.
The hoodlums, said to have been engaged at the Konkonba Market, were quickly identified by some undercover elements and their intentions stalled before they could carry them out.
This underscores the fact when we show determination to let order overcome unruliness, we shall succeed in seeing our dear country through the polls.
We wish to repeat to the security chiefs that intelligence is very much important in such matters and so we ask that they engage their informants on the ground with a view to identifying sinister plans before they are actualized.
The December 7 polls is critical in our democratic experiment and as we are set to tell the world that we have come of age, we should also be ready to find effective means of containing those who seek to deny us such credit.
Officers should on Election Day undertake unscheduled visits to polling stations to ascertain the state of affairs because sometimes when trouble is brewing the junior officers are unable to tell which direction to go.
We pray though that matters do not degenerate to such levels.
The minimum use of force directive which we have learnt is going to be issued is good but then the security personnel should be able to communicate with their nearest bases so they can be supported when the need arises.
Coordination between the security agencies who as we have pointed out would be drawn from an assortment of institutions is very important.
This area should also be tackled adequately by the security chiefs. The IGP as the head of the Election Day operations must gel easily with his counterparts from the other services.
We are convinced that all things being equal we shall be on top of the mischief makers and Ghana will triumph.