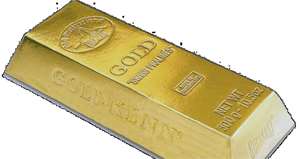 Gold rose for a fourth straight day yesterday, rising 2 percent at one point, as oil extended gains and the dollar fell against the euro, which stirred hopes bullion could eventually regain $800 on safe-haven buying.
Other precious metals tracked gold higher, with firmer equities also helping prices move away from their multi-year lows. The US Federal Reserve cut interest rates by half a percentage point on Wednesday, sending the US dollar tumbling.
Gold was trading at $763.30 an ounce, up $9 an ounce from New York's notional close on Wednesday, when it hit an intraday high of $773.40 an ounce.
"I think all the preconditions are there for gold to take a very healthy run. The physical demand for gold has actually exceeded the ability to supply right around the world," Ian Smith, managing director of Newcrest Mining Ltd, told reporters in Melbourne.
Newcrest is Australia's largest gold producer.
Gold plummeted to its weakest in 13 months at $680.80 on Friday after investors cashed in to cover losses in stock markets. It has bounced on strong oil, a recovery in equities, a firmer euro and tightness in physical gold supply after a recent drop in prices triggered buying from jewellers and investors.
The precious mineral, which traded around $800 earlier this month, was still below a record high of $1 030.80 hit in March after a rally to a two-month high of $931 on October 10 was met by heavy selling.
Meanwhile, Fitch Ratings say gold price would hold up reasonably well over 12-18 months.
According to the world acclaimed rating firm, some hidden benefits may be found in the current financial crisis for mining companies as labour, energy, power and consumable costs decline.
Fitch Ratings says liquidity for the mining and metals sector is generally healthy as most companies have taken advantage of strong prices to improve their assets and capital structure.
In their analysis on the liquidity of North American mining and metals, Fitch analysts Monica Bonar and Sean Sexton forecast that "gold producers should continue to benefit from a very strong pricing environment" as gold prices hold up reasonably well over the next 12-18 months.
Reuters