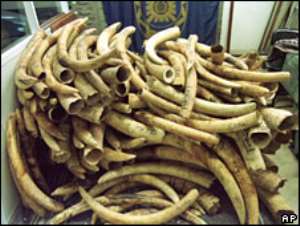 The first officially sanctioned sale of ivory in southern Africa for almost a decade opened on Tuesday.
Namibia, Botswana, South Africa and Zimbabwe will auction more than 100 tonnes of ivory from stockpiles to buyers from China and Japan.
The money raised will go into elephant conservation projects.
Some environment groups say the sales encourage poachers elsewhere in Africa to kill elephants for ivory that can be fed into the illegal trade.
However, data collected by the wildlife trade monitoring network Traffic shows that seizures of illegal ivory fell in the years following the last legal sale in 1999.
The secretariat of the Convention on International Trade in Endangered Species (CITES), the UN body that sanctioned the sale, says it will monitor trade in China and Japan to make sure companies are not mixing illegally sourced ivory with these legal shipments.
The tusks being sold come mainly from animals that died naturally. China and Japan are not permitted to export the material.
The ivory trade was banned globally in 1989 because poaching was decimating elephant populations. This and the 1999 sale are the only exceptions.
Last week, the internet site eBay banned virtually all products containing ivory after lobbying from animal welfare groups.
Continental divide
The sale was approved in principle in 2002; and at last year's CITES meeting in The Hague, delegates agreed that enough precautions had been taken that the auction could go ahead, with Japan as the sole validated buyer.
Earlier this year, CITES decided that China had acted against the illegal trade with enough vigour that Chinese companies could also bid for a share of the stockpiled ivory.
"We implement our international obligations to protect endangered wild animals, and we have always honoured our international obligations," China's foreign ministry spokeswoman Jiang Yu told reporters as the auction opened.
This is contested by some environment groups, which argue that Chinese controls remain lax.
"We are deeply concerned that these sales will open the floodgates to additional illegal trade," said Will Travers, CEO of the Born Free Foundation.
"For some inexplicable reason some people think that all elephant populations are adequately protected and thriving. Nothing could be further from the truth."
The issue starkly illustrates the divided fortunes of elephants across Africa.
In some range states, particularly those in central and west Africa affected by civil unrest, populations are believed to be declining, partly because of poaching.
But in southern Africa, decades of protection and management have seen numbers rising by about 4% per year. South Africa has recently approved in principle the use of culling to control populations.
In this region, conservation groups argue that elephants are safer if local communities benefit financially from looking after them, whether through eco-tourism or the sale of ivory from animals dying naturally.
The 1999 auction raised about $5m for conservation and community projects.
But with Chinese buyers also involved, a total bounty of $30m is said to be possible this time around.
Namibia auctions its stockpile of nine tonnes on Tuesday, followed by Botswana's much larger disposal of 44 tonnes on Friday. The South African and Zimbabwean sales take place next week.
The 2007 CITES meeting that approved this sale also declared there should be no more for 10 years.
Source: BBC