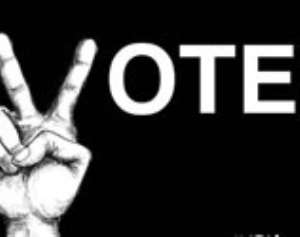 Confusion broke out at the office of the Electoral Commission (EC) at Nsawkaw, the capital of the Tain Constituency when a 32-year-o1d parliamentary hopeful of the Democratic Freedom Party (DFP) could not find his name on the voter's register.
The DFP parliamentary aspirant for the Tain Constituency, Mr Paul Abrebrese, a teacher at the Don Bosco School at Odurnase in the Sunyani West District, had his hopes dashed when he went to the EC's office in the company of his supporters, friends and family to file his nomination only to find out that his name had vanished from the voters register.
It took officials of the Electoral Commission, Mr Abrebrese and his supporters several hours to check his name in the voters register, the poll book and the check list but all to no avail.
Mr Abrebrese told the Daily Graphic that he registered at the Nsawkaw Health Centre but voted at Nsawkaw Methodist Primary School polling station during the 2004 general and the 2006 District level elections respectively.
When asked of his voter's identification (ID) card, he said it got lost a few days after the exhibition of the voters register by the EC.
He further said it was one teacher at Nsawkaw, by name Kofi Kontor, who registered him.
When contacted, Mr Rudolph Chireh, the Tain District Director of the EC, said once Mr Abrebrese could not find his name in the voters register, he could not file to contest as a parliamentary candidate in the constituency.
He said the electoral laws required that a prospective candidate must be a registered voter in the constituency where he or she wanted to contest.
In a related development, one of the independent parliamentary aspirants, Mr Thomas Nsowah Adjei who has his posters displayed in some parts of the constituency did not show up to pick nomination forms let alone file.
By the close of nomination, the incumbent Member of Parliament (MP) for Tain, Mr Joe Danquah of the New Patriotic Party (NPP), Mr Ahmed Ibrahim of the National Democratic Congress (NDC), Mr Joseph Kwame Duku of the Convention People's Party (CPP), Mr Abdul Suala of the Democratic People's Party (DPP) and Mr Richard Obour (independent) had filed their nominations.