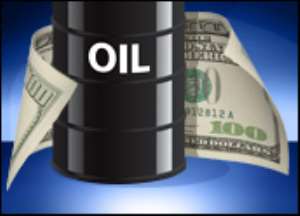 Oil prices fell below $88 a barrel yesterday in Asia due to investor fears that crude demand will weaken as turmoil in the financial system pushes economies in the US and Europe into recession.
Light, sweet crude for November delivery was down by $1.39 to close at $87.56 a barrel in electronic trading on the New York Mercantile Exchange by midday in Singapore. The contract overnight fell $1.11 to settle at $88.95.
In London, November Brent crude fell by $1.35 to close at $83.01 a barrel on the ICE Futures Exchange.
"Traders are expecting the world to move toward recession, with the US and Europe, especially a concern," said Gerard Rigby, an energy analyst with Fuel First Consulting in Sydney. "Based on the short-term trend, you could see prices approaching $80 in next week."
Weighing on prices was evidence of falling demand in the US, where crude inventories jumped by 8.1 million barrels last week, while gasoline stocks surged to 7.2 million barrels, the Energy Information Administration said on Wednesday in its weekly inventory report.
Meanwhile, demand for gasoline over the four weeks ended October 3 was 5.3 per cent lower than a year earlier, averaging nearly 8.8 million barrels a day, according to the EIA report.
Crude has fallen about 40 per cent since surging to an all-time record $147.27 a barrel on July 11.
"The bubble has burst," Rigby said. "Before any real increase in prices, we need to see some good economic data from around the world, and that could be a few months."
Prices were supported by speculation that the Organization of the Petroleum Exporting Countries may cut output to keep prices from falling too far. Venezuelan President Hugo Chavez said Wednesday that some OPEC members want an extraordinary meeting before the group's Dec. 17 meeting in Algeria.
OPEC's decision last month to cut production by 520,000 barrels a day failed to halt oil's slide.
"I think OPEC will definitely start to talk the market up," Rigby said. "They'll try to keep their members to their quotas. Then if prices fall below $80, they may cut production."
Credit — AP