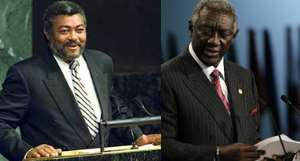 President Kufuor has expressed concern over the way former President Rawlings has been leveling all sorts of allegations against him and his family, but said he has given everything to God.
Speaking to Kwame Sefa Kayi in London recently, and played back on Peace FM yesterday, the interview touched on a wide range of issues including the alleged involvement of his government in the murder of the former Deputy Managing Director of the Ghana Commercial Bank, Mr Rokko Frimpong.
President Kufuor said he does not understand why the former President has always been trying to make serious allegations against him and his family. To him, God would be the best judge and that he has surrendered everything to the Almighty One, and that he would not say anything about the issue.
On the constant beating of war drums by the ex-President, Mr Kufuor said his government was firmly in charge of affairs and that nothing would happen during and after the elections. He said he had presided over one successful election already, and would make sure that the December 2008 one follows the same pattern.
He assured that he would not sit down and allow the country to go back into slavery, and that everything possible would be done to secure peaceful elections.
According to President Kufuor, who spoke with a humble tone, he used his recent visit to the US to invite international observers to come and monitor the elections.
He assured Ghanaians that he would hand over a peaceful country to the one who would take over from him.