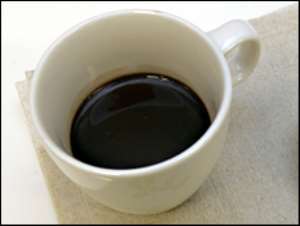 Drinking too much coffee can lower the odds of a woman with fertility problems getting pregnant, a study suggests.
Dutch researchers followed 9,000 women who had received IVF to see if they fell pregnant naturally.
Around one in seven did, but drinking more than four cups of coffee a day cut chances of conceiving by around 26 per cent.
Experts said the findings, presented to a European conference, only applied to women with poor fertility who wanted to maximise their chances of pregnancy.
The researchers, from Radboud University in Nijmegan, studied all women who had received IVF treatment in the Netherlands between 1985 and 1995.
They found 16 per cent of the women went on to conceive naturally, 45 per cent within six months of their last IVF treatment.
They used questionnaires to analyse how lifestyle factors affected a woman's chances of pregnancy.
Drinking alcohol at least three times a week carried the same risk as excessive caffeine intake.
But smoking more than one cigarette a day and being overweight reduced the chances of pregnancy even more.
The researchers estimated that a 36-year-old woman who smoked, drank too much coffee and alcohol and was overweight, and who had been through three cycles of IVF, would have a 5 per cent chance of a natural pregnancy.
If she was a healthy weight and did not smoke or have too much caffeine or alcohol, her chance would be 15 per cent.
'Limitations'
Dr Bea Linsten, who led the research, told the European Society for Human Reproduction and Embryology conference in Barcelona that patients should be advised how they can maximise their chances of a natural pregnancy.
"We have to remind our patients that they may influence their chance of spontaneous pregnancy after IVF with a healthy lifestyle."
However, some experts warned that the findings of the study had to be examined with caution.
Fiona Ford, of the Centre for Pregnancy Nutrition, said: "Whilst the results of this study are interesting, there are evidently limitations to these findings as post IVF patients are a selective group who have already experienced problems with conception.
"There is nothing within this study that provides a reason to change guidance to patients."
She cited previous reseach which said there was no "convincing support" for the claim that coffee was linked to delayed conception.
Fertility expert Professor Bill Ledger, from the University of Sheffield, said caffeine could potentially have a mild, but toxic, effect on ovaries and sperm which could be a problem for those with poor fertility.
But he added: "A lot of women can have 20 cups of coffee a day and get pregnant while falling off a log, but if you're already subfertile it could push you over the edge.
"It is only a problem if you are subfertile and you overdose."
Zoe Wheeldon, from the British Coffee Association, said: "There is no need to cut caffeine or coffee out of the diet completely, scientific evidence demonstrates that for pregnant women or those trying to conceive up to 300mg of caffeine per day is perfectly safe."