Kenya cabinet to learn the ropes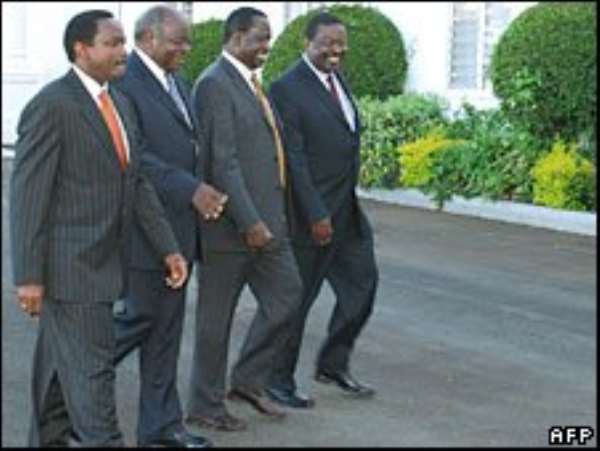 Kenya's power-sharing cabinet is to meet for the first time since being sworn in more than three weeks ago. The coalition government, which was key to solving the nation's post-election violence, is to gather for an "induction seminar".
The BBC's Josphat Makori in Kenya says it is a chance for former political rivals to learn how to work as a team.
Violent clashes after December's election left some 1,500 dead and 600,000 homeless.
President Mwai Kibaki and Prime Minister Raila Odinga agreed to share power in February after negotiations led by former UN head Kofi Annan.
Weeks of wrangling followed about how to divide up the coalition cabinet.
Sensitivity
Friday's meeting is to be opened by Mr Kibaki and attended by Mr Odinga along with more than 90 ministers and deputy ministers.
Our correspondent says that the induction is intended to help ministers who have not served in government before.
Issues of collective responsibility and issues of cohesion will be paramount, as some of Mr Odinga's party minister still talk as if they are in opposition, he says.
On Thursday, a group of civil society organisations accused the new government of rushing the return of tens of thousands of displaced people, without addressing underlying ethnic tensions.
More than 25 organisations said the resettlement operation must be handled with greater sensitivity if Kenya was to achieve lasting peace.
They called for greater consultation with communities and compensation to help displaced people rebuild their homes.
The Kenyan government says it expects to complete the programme of resettling the 140,000 people still displaced within a month.