Taekwondo — It's In Our Blood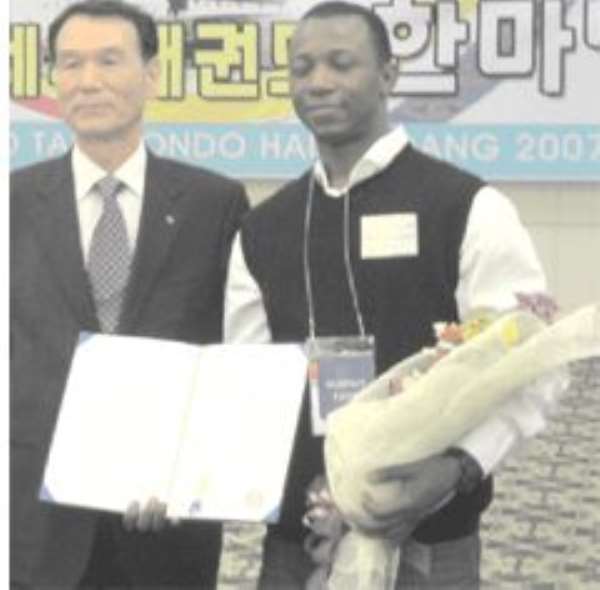 It has always been part of societal identity to compete with other societies. In times of hostilities, nations wage war; but in times of peace, they hold sporting championships or compete in trade.
In an ever-increasing competitive world, in all facets of life, the best strategy is to identify, develop and leverage one's strengths in order to outplay one's contestants.

Sport is no exception. Some nations have laid emphasis on some selected games and have been duly identified with them.Examples of these abound: US – basketball and baseball; Pakistan – hockey, and Eritrea – cycling.

International tournaments were primarily geared towards promoting friendship and international relations, and providing entertainment. Now, however, sport is big international business and a platform for nations to market themselves.
Consider the CAN 2008 – the businesses and commercial benefits that have come with it. When the tournament was on-going, Ghana was in the spotlight of the world.

A Taekwondo exponent, no less than a 9th Dan – Grandmaster Ki-ok Gwak who spent over 20 years in Ghana, and Ghanaian Taekwondo masters have expressed the view that Taekwondo comes naturally to Ghanaians, and that the nation stands to harvest medals and glory through Taekwondo in multi-disciplinary championships such as the All African Games, Commonwealth Games and the Olympic Games.
The records corroborate this assertion. Ever since Ghana featured Taekwondo in the All African Games from the 1980s, she has never returned from the games without at least three medals in the discipline except for the last games in Algeria where only one medal was won.

In the last West Africa regional tournament (WATCON 99) Ghana participated, we won five gold medals.
Even in the farthest parts of the earth, Ghanaians have excelled in Taekwondo. In Canada for example, Master Felix Ayensu, an international champion of many Taekwondo events, is currently running one of the biggest martial arts academies.
In the Republic of South Korea too, the origin of Taekwondo, Master Muhktar Kadiri has been winning medals and making an outstanding mark.

Ghanaians are not only physically endowed with how to manifest the sport, but are also knowledgeable about what the game is.

In a world Taekwondo essay competition, Master Kadiri, despite being the youngest entrant, was runner-up. His topic was "Eternal Passion: My Journey with Taekwondo." He was decorated during the November 2007 World Taekwondo Hanmadang in Kukkiwon, Korea.

In the second World WTF Poomsae Championships held in 2007, the Ghanaian team, even though was short of a full complement, managed to reach the final stage of the competition thanks to the indomitable spirit and skill of Master Kadiri and Nicholas Dodzidenu.

It is hoped that the exploits of Master Kadiri and others will trigger the right interests and galvanize the sports authorities, sponsors and other stakeholders into fashioning out the right strategies to place Ghana in its proper place at the world stage in the martial arts.

Indeed, martial arts such as Taekwondo, ought to be an integral part of the training regime for all Ghanaian security institutions, in order to utilize it both for sport and fitness as well as for the protection of citizens in our communities and the society at large.

By Adnan Lamptey