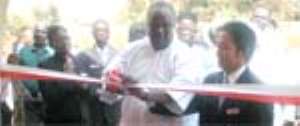 Toyota Ghana Limited has accredited Ansuare Company Limited, an automobile mechanical workshop located at Lamashegu in Tamale as an authorized service shop to sell Toyota genuine parts.
The accreditation would also enable Ansuare to carry out maintenance services on Toyota vehicles in accordance with 'Toyota standards'.
The official recognition was characterized by a well attended ceremony by officials of corporate institutions and other clients of Toyota.
Commissioning the center, the Chief Executive Officer of Toyota Ghana Limited, Masato Kimata, underscoring reasons that necessitated his outfit to undertake this move, said due to the growth of the company and its customer base, many of the vehicles had found their way into the three Northern Regions.
He said the challenge however was to ensure proper servicing of the vehicles when they were due.
"To access professional service, owners of the vehicles have to travel long distances and this increases the mileage and sometimes incurring fatalities in the process, but, today Toyota is pleased to say that this phenomenon is a thing of the past. We have brought our services to your doorstep."
He added that customers would be satisfied with the services that would be provided by the staff of Ansuare Company Limited because they had undergone the required training to acquire the requisite skills and professionalism needed to provide Toyota Standard Service.
He therefore entreated Ansuare Company Limited to uphold the standard associated with Toyota and never compromise on quality and excellent customer service.
Outlining the Toyota Ghana service shop concept and plan, the National Spare Parts Manager, Jacob Pimpong said TGCL intended to bring services closer to its cherished customers, in all the 10 regions of Ghana and develop the managerial capacity of Toyota Ghana Authorized Service Shops (TGASS) 'the Toyota way'.
Mr. Pimpong added that Toyota would also offer technical advice and ensure improved facility of TGASS shops in order to satisfy Toyota customers wherever they might be as well as train technicians adequately in order to offer quality service to all Toyota customers.
Toyota is currently the leading automobile dealer in the country.
By Patrick Baidoo