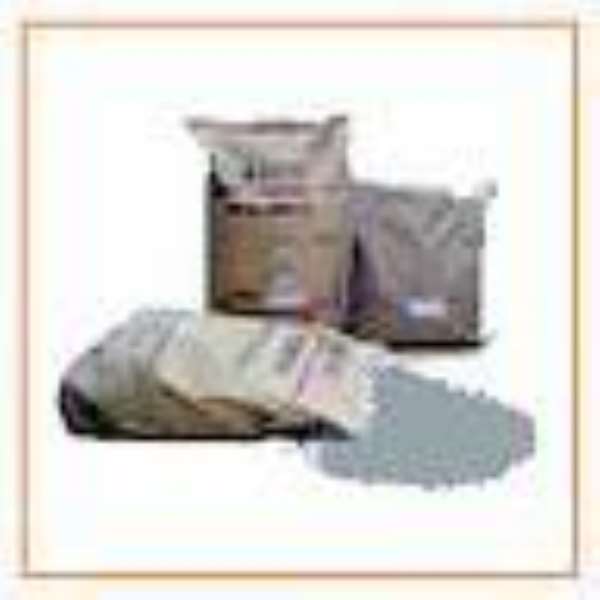 Competition in the cement industry is expected to heighten as a third cement manufacturer is set to begin operations in the country from early next year.
PMC Global Incorporated, a United States based multinational company is expected to begin the commercial production of pozzolana, a cement complement invented by the Council for Scientific and Industrial Research (CSIR) in the 1990's, by early next year.
The multi-million dollar factory, which will be located at Prampram in the Greater Accra region, is expected to produce some hundreds of thousands of cement monthly, when production commences.
PMC had already paid $300,000 to the Building and Road Research Institute (BRRI) in Kumasi for the technology transfer and invested $100,000 to expand the production plant to increase its capacity.
Director-General of the CSIR, Professor Emmanuel Owusu-Bennoah told CITY & BUSINESS GUIDE that PMC Global Incorporated is so far satisfied with the research work done by the BRRI and also the available larger quantities of raw material for the pozzolana production in the country.
The CSIR in May signed a contract with PMC Global Incorporated, for the commercial production of the Pozzolana.
According to the agreement, CSIR was to be given seed money of $150,000 to expand the pilot plant for the production of the Pozzolana at the BBRI, while the multinational company completed other agreements pertaining to land acquisition for the building of its own plant.
After the construction of the plant, PMC would take over the licence and exclusive production of the Pozzolana for an initial five-year term.
The production of Pozzolana would bring many benefits to the economy including the creation of jobs, income for the raw material producers, affordable housing for workers and reduced government expenditure on the provision of schools and other infrastructure among others.
The coming into existence of the third manufacturer is also expected to reduce the cost of cement on the market, which until recently had gone up to between ¢75,000 cedis and ¢90,000 cedis in Accra and ¢100,000 in other parts of the country, a situation that led to protests from building contractors.
PMC will thus join Ghana Cement Manufacturing Company Limited (GHACEM) and Diamond Cement of Aflao in the Volta region as the cement producers in the country.
Ghana will be PMC's first destination in Africa.