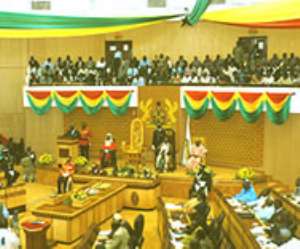 Parliament is today, November 26 2007, expected to commence debate on the 2008 Budget Estimates and Economic Policy of tile government recently presented before the House by the Minister of Finance and Economic Planning Kwadwo Baah-Wiredu.
This is taking place after the leadership of the house, committee chairpersons, ranking members and some selected staff of the Parliamentary Service had been taking through a three-day post budget workshop to enable members make meaningful contributions on the budget when the debate begins.
The debate which is expected to be interesting will enable both the majority and minority sides of the house assess the content of the budget and discuss how realistic it is before giving it the necessary approval.
The Minority group, led by Kingsford Alban Sumanu Bagbin, will be strongly arguing about a number of issues. Among them is the allocation of GH¢25 million for the Northern Development Investment Fund which they claim is a peanut considering the amount of money "government is wasting on the building of a presidential palace." The government has,on separate platforms maintained that the GH¢25 million is seed money for future government.

The proposed tax on mobile phones by per airtime is also expected to be debated, especially in the wake of agitations from the network operators who are alleged to have expressed their dissatisfaction and have petitioned Parliament on the issue.
The Minority group will also be raising the issue of Gross Domestic Product (GDP) targeted at 7 percent in the budget in view of the fact that government could not achieve its GDP of 6.5 percent in 2007.

The Minority group will be arguing on this basis that government cannot achieve the 2008 target.
The Majority group, led by the Majority leader and Minister for Parliamentary Affairs, Abraham Ossei Aidooh, will on the other hand, seek to defend the "brighter future" tag place on the budget with arguments based on the discovery of oil in the country, the commencement of the Bui Dam and the acclaimed stable economy.
In his explanatory memorandum on the business statement for the sixth week ending of the third meeting of the Second Session of the Fourth Parliament of the Fourth Republic of Ghana, Aidooh indicated that in view of the debate the house will have extended sittings for the week including Mondays.