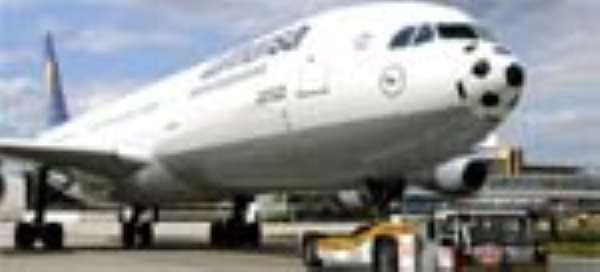 LUFTHANSA GHANA (LG), in collaboration with Standard Chartered Bank (SCB), has introduced a "Pay-Later-Plan" for its teeming passengers as part of its 40years' celebration package.
The General Manager of LG, Mr Silvio Uhlfelder announced this at a news briefing in Accra to mark the 40years of his outfit's existence in the country.
He said, "The basic requirement are simple; all you need is an account with SCB in Ghana, with a minimum of 6 months' accounts relationship."
He further explained that the facility dubbed; "SCB/Lufthansa Smart Credit Loan," was intended to enable passengers of the airline to purchase tickets through a loan facility scheme with the bank.
The General Manager added that his outfit had redesigned its website, "Lufthansa .com" to aid passengers with the purchase of their tickets.
"With the redesigned web page, passengers can, from the comfort of their home or office, go online and beat queues. It is faster, easier, customer friendly and provides enough information on bookings", he said.
He emphasized that during their jubilee, as part of the package, customers traveling from Ghana would enjoy a special online fare of $349.
The Managing Director of Lufthansa, West Africa, Mr Herbert Reichle, disclosed that the air company would launch a thrice-daily service to Bristol (South West England) from Frankfurt, starting next March.
"The new service will make Lufthansa's route in Britain even denser", he added.
Lufthansa Ghana started operations in the country 40 years ago and during the nation's jubilee published the article "Ghana-Beacon of Africa" in the airline's newspaper, 'Lufthansa Seat', projecting the positive economic and cultural nature of this country.
Seventy four thousand copies of this newspaper are published weekly for distribution in all the airline offices.
In the industry, Lufthansa is one of the largest airlines and currently offers flights to 188 destinations in 79 countries.
It is also a founding member of Star Alliance and ranked among the world's top 10 airlines. The Lufthansa group operates 433 aircrafts.
By Patrick Baidoo