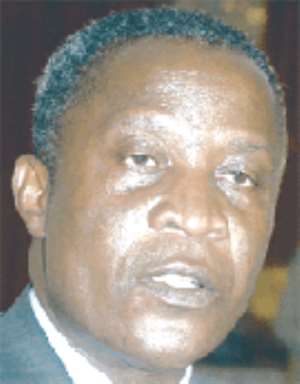 The Minister of Finance and Economic Planning, Kwadwo Baah-Wiredu, is expected to, this week, present to Parliament the nation's fiscal policy for 2008 on November15.
This would be the third consecutive year that the sitting government has presented the budget in accordance with the provision of the Constitution.
Next year's budget is expected to prioritise education, infrastructure and agriculture.

With the introduction of the new education reforms, the government will provide interventions in the areas of increasing access to education and training at all levels, bridging the gaps in accessing education throughout the country, improving efficiency in delivery of education services and ensuring the implementation of quality teaching and learning at all leve1s.
The government would also enhance infrastructure development in the educational sector.
On infrastructure, the priority areas to be addressed include the Volta River Authority's 300 megawatt thermal project at Tema, Electricity Company of Ghana's distribution and sub-transmission network expansion as well as a 230 kilometer Accra-Kumasi toll highway. Most of these projects will be financed from the US$750 million secured from the international market through a bond issue.

On agriculture, the government is expected to provide interventions to address the looming food shortage in the country due to floods that hit the three northern regions which are considered to be the bread basket of the country.
Other interventions include improving irrigation infrastructure and enhancing access to credit.
The government has set 6.8% Gross Domestic Product (GDP) growth for 2008, as against 6.5% this year. Latest figures from the Bank of Ghana indicate that GDP growth is likely to be 6.4% this year due to major shocks in the economy, particularly the energy sector.
The country's GDP growth rate has risen from 3.2% in 2000 to 6.2% in 2006. Inflation has dropped from 40.5% at the end of 2000 to 10.1 % in October this year.