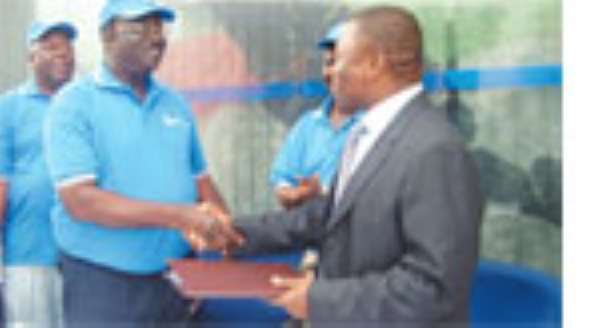 A $50-million revolving fund for Ghana Private Road Transport Union (GPRTU) to enable it purchase 1,000 vehicles, has been set up by Stanbic Bank Ghana Limited. To kick-start the project, 20 vehicles were presented to the union in Accra last Thursday by the bank.
In addition, Stanbic Bank would from next year open banking facilities at GPRTU lorry parks to enable passengers traveling on long journeys deposit their monies and withdraw them at their destinations.
The objective of this measure was to reduce the incidence of armed robberies on the highways, which was gradually crippling the fortunes of traders and other market women.
These monies would have been otherwise lost by the passengers; but this innovation would ensure that passengers travelled safely with their capital intact.
Furthermore, rest stops, filling stations, mandatory vehicle check spots for drivers and passengers as well as other facilities, all aimed at making traveling safe and comfortable, would be pioneered by the bank.
These came to light at the launch of Stanbic Bank Ghana/GPRTU partnership agreement in Accra last Thursday.
Under the deal, Stanbic Bank would have the opportunity to brand the various lorry parks and the buses it would support the union to purchase with its logos and banking paraphernalia.
Alhassan Andani, Managing Director, Stanbic Bank, Ghana, said for a start, the bank would be picking monies from the various stations on a daily basis, adding that the process of implementing the banking facility at the stations would start in 2008.
Alhaji Yaw Manu, National Chairman of GPRTU described the partnership as historic and commended the bank for making it possible.
Alhaji Manu said the union, which had over 800,000 members, had agreed to open pilot agencies at the Accra and Kumasi, saying the project would be replicated in the various regions.
Launching the partnership, Godfrey Bayon Tangu, a Minister of State at the Ministry of Transportation lauded the initiative, noting that it would curb the spate of robbery on the country's highways.
He expressed concern over the spate of robbery on the highways, especially Kumasi-Techiman, Kumasi-Yeji and Techiman-Tamale and recounted how travellers had been robbed of their belongings, monies and killed by highway robbers.
"As a result of these robbery incidents, most traders who have been involved in internal marketing of agricultural produce have lost their capital and could not able to support their families."
By Felix Dela Klutse