Create structures to enable individuals develop economically - Okyenhene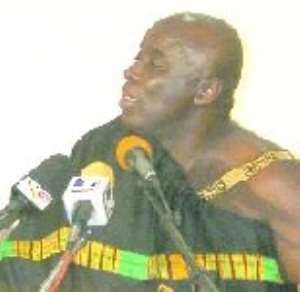 Amotia Ofori Panin, Okyenhene, has called for the creation of structures that would enable individuals to easily mobilize the large natural assets available and turn them into economic resources for development.
He said over centralization and the current legal system could not support such a vision and called for effective decentralization and modifications to change "the situation where one has to travel from his locality to the regional or national capital to wait for days and weeks just for the signature of an official before one can do business".
Okyenhene Ofori Panin was speaking at Kyebi when Mr Brett Goschen, Chief Executive Officer (CEO) of the Mobile Telecommunication Network (MTN), paid a curtsey call on him at his palace.
He said the country had reached a stage where the government would have to stop guaranteeing lifetime employment to people.
The Okyenhene said Ghana had a store of knowledge and resources that could be mobilized for an economic take-off and invited the MTN to contribute its quota towards the country's economic development.
He announced that he would soon launch a programme to promote the planting of trees all over the country.
Mr Goschen also called on the Eastern Regional Minister, Mr Yaw Barima at his office at Koforidua.
In a speech, Mr Barima observed that, telecommunication stimulated business and helped in poverty reduction and expressed his appreciation for the MTN's intention to work not only in the urban areas of the Region but also the rural areas.
He express his appreciation to the efforts being made by MTN to help in alleviating poverty in the Region and assured Mr Goschen that despite the country's small population, it was growing economically, at the same rate as Nigeria and South Africa.
Mr Goschen said last year, MTN spent over 150 million US dollars to improve its network service in the country and gave the assurance that the company would be spending similar amount this year to help improve its services.
He said the company was planning to re-brand and would soon be referred to as MTN Ghana Operations.
Mr Goschen announced that the company would soon launch the MTN Foundation in the country, to be in-charge of handling its Corporate Social Responsibilities