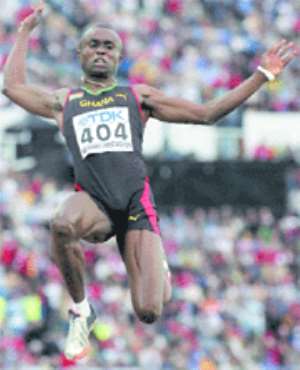 Two of Ghana's world athletics stars who have been out of action for various reasons, are back with the sole aim of continuing from where they left off — their record-breaking feats.
Commonwealth Games champion in long jump, Ignatius Gaisah, and World Championship heptathlon bronze medallist, Margaret Simpson-Senya, are charting different routes, but with a common objective of getting back into the spotlight and winning the All Africa Games in Algeria in August.
This weekend, Gaisah, who has been out of action since last September due to an injury, launches his 2007 season with an appearance at the Grand Prix of the International Athletics Associations Federation (IAAF) in Abuja.
At the Abuja Grand Prix where the best in the world in some selected track and field events are expected to assemble, the Holland-based Ghanaian star, ranked second in the world, is hoping to have a good start without necessarily being the champion.
"I'm glad to be back and getting ready for the season. After the lengthy break, it will be too much to get back right to the top spot because my competitors had been training while I was nursing my injury, but I want to get into the competition mood psychologically before the big ones," Gaisah told the Graphic Sports.
In Abuja, and perhaps at the All Africa Games where he defends his title, his biggest challenge is likely to come from South African Godfrey Mokeona who won his second event in the season at the Dakar Meet with a jump of 8.32m last weekend.
Mokeona has already indicated his desire to leap to an 8.50m this season and has targeted to set that record at the All Africa Games.
In a conversation with Ghana Athletics Association (GAA) Chairman, Sandy Osei Agyeman, Mokeona threw an open challenge to Gaisah, saying the Ghanaian had been his biggest threat in the event and he expressed the hope to have a 'pay-back time' in Algiers.
However, Gaisah does not seem bothered by that challenge to be pushed into competing in so many events, having already paid the price for such a venture.
Last season, Gaisah, a silver medalist in the world, competed in almost all the events and got burnt out. This cost him a medal at the World Athletics Cup and ended his season prematurely.
Now, he has told the GAA that he is going to be very selective with the events, competing in the ones that will earn him more ranking points and those that are of significance to his career.
"It does not pay to compete in all the events just for the prestige and cash, that hurts your season and you're likely to be worn out by the time the most important events are on," he explained.
For the hepathlete queen, getting back to form after a year's lay-off to become a mother has not hurt her career much even though she has lost her place in the world ranking.
In Europe competing in the IAAF-sanctioned Catalogue for world hepathletes, Simpson-Senya, the defending All Africa Games champion, scored 7,566 points, enough to earn her a position as the world's third best.
She, however, is determined to retain her position as Africa's best as the continent struggled to find her replacement while she was on maternity leave.
"I'm happy to be back and competing and don't feel any pressure. It's like I've been around and I'm only continuing from where I left off. I think being able to get back into such top form after a long lay-off has more to do with the mind than ability.
"I'm in the right frame right now, thanks to my Russian coach, and I think this season will be good, by God's grace," the 25-year-old champion told the Graphic Sports.
Mr Osei Agyeman, thrilled by the return of Simpson-Senya, also told Graphic Sports that the other Ghanaian female athletes look poised to excel, especially at the All Africa Games.
"I've spoken to their trainers, and having watched them closely, I think they will do very well in Algiers, and that means more support from IAAF," he stressed.
Story by Rosalind Amoh