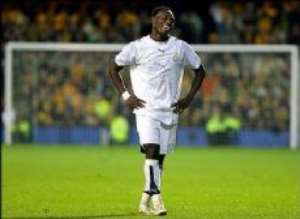 Jose Mourinho is backing Michael Essien to play a key role in the second leg of Chelsea's UEFA Champions League meeting with Liverpool.
The Ghanaian has been a source of inspiration for many at Stamford Bridge this term, but he was forced to sit out Wednesday's first leg win due to suspension.
Mourinho has waxed lyrical about the player nicknamed 'The Bison' this term, claiming 'He can run forever and can play a game every day'.
Essien is likely to get the chance to put his fitness levels to the test over the course of the next week, as he will be thrust straight back into Chelsea's Premiership battle with Bolton before next week's second leg at Anfield.
"I hope Essien is back and plays," said Mourinho. "He will play against Bolton on Saturday because I can then rest some players.
"He is an important player for us."
Mourinho had a pre-game moan about Liverpool being fresher than Chelsea and he expects that to be the case next Tuesday.
He added: "In three days' time I can guess that Liverpool plays in Portsmouth and it is not an important game for them. So their next important game is against Chelsea next Tuesday. But Chelsea will be in a final against Bolton on Saturday.
"So again, like today, the power is not the same. But we played very well in the first half and the players have a dream. So we go to Anfield to try and be in the final."