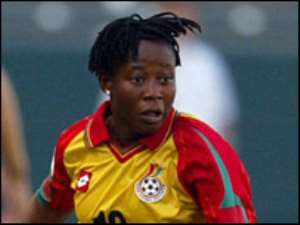 Three African players have been invited to join a Women's World XI to face China in a friendly on Saturday.
Nigerian striker Cynthia Uwak, Ghana's Adjoa Bayor and South African midfielder Portia Modise were named in the 18-member sqaud. The game will take place in the Chinese city of Wuhan on the eve of the launch and draw of the Women's World Cup to be staged in the Asian country in September.
The trio will join up with reigning World Player of the Year, Marta of Brazil and three-time German winner of the award, Birgit Prinz, who are special guests at the event.
"I am very happy to be given my first call to the World XI team," Adjoa Bayor told BBC Sport.
"Playing with the world class players will give me the needed exposure to excel at the World Cup in September."
The star-studded world select team will be coached by Tina Theune-Meyer, who led Germany to World Cup glory in 2003, and England coach Hope Powell.
The draw will take place in Wuhan, where four first-round matches and two quarter-finals of the World Cup will be staged.
Ghana and Nigeria are the two African representatives at the World Cup in September.
Squad
Goalkeepers:Bente Nordby (Norway), Rachel Brown (England)
Defenders: Monica Gonzalez (Mexico), Hiromi Isozaki (Japan), Laura Georges (France), Gitte Andersen (Denmark), Cheryl Salisbury (Australia)
Midfielders: Mariela Coronel (Argentina), Andrea Neil (Canada), Daniel (Brazil), Lotta Schelin (Sweden), Adjoa Bayor (Ghana), Kristine Lilly (USA), Maia Jackman (New Zealand)
Strikers: Ri Kum Suk (North Korea), Cynthia Uwak (Nigeria), Portia Modise (South Africa), Conny Pohlers (Germany)