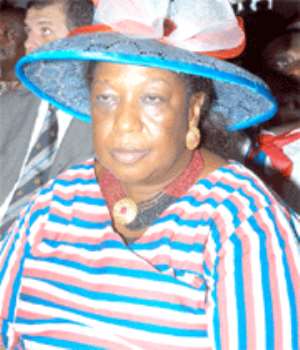 Ghana has lost one of its finest female politicians, Madam Hawa Yakubu former Member of Parliament for Bawku Central and a former member of the ECOWAS Parliament.
She died after a protracted illness in London on Tuesday, March 20, 2007. She was 59.
Hawa Yakubu had the interest of women and children both within and outside her constituency at heart, and she brought smiles to the faces of many who were in need that came her way.
She demonstrated this by donating items such as sewing machines to young girls to enable them to undergo training as well as educational materials to schools both in and outside her constituency to enable children to have quality education.
On the occasion of her 58th birthday on March 3, 2006, Hawa is on record to have stated that "I was able to reach this milestone against, gender, cultural and financial impediments because I have experienced first hand, the power of education, which should be seen as a right and not a privilege.
I see education as a panacea to unlocking the potential of the girl child who has been excluded and marginalised, especially in our rural societies.
Education is one of the ways of attacking poverty. The whole community benefits when women are educated because women are the bedrock of every society."
A caterer by profession from the Accra Polytechnic, Hawa Yakubu who was a former Minister of Tourism, carried the torch of a trailblazer in women's participation in the politics of Ghana. She has held various positions in the New Patriotic Party (NPP).
She benfited from Kwame Nkrumah's policy of free education for the north. She was the first of her mothers five girls who went to school,
"Being the first of my mother's girls to go to school, I was under a lot of pressure, but subsequently as I grew up, even before I finished school, I also helped the last two, Helen and Rose to go to school.
I had the responsibility of helping my mother take care of them even as a student. I had to work to help my mother take care of their education", she said in an interview she granted some years back.
Hawa Yakubu would encourage almost any woman who steps out to run for an election as long as the office in contention had ideals which were parallel to her own party's political plans.
She is also known for her interest in young ladies who cannot afford basic education and through it has endeared her to some people in her constituency in Bawku.
One of her favourite pastime is reading. You could catch her at home reading Rudi Giuliani book on leadership or Hillary Clinton's Path to Power".
She served as the Patron of CAMFED ( a UK based charity organisation), Patron GHASAP (Ghana Skills and Acquisition Programme) and Patron NAWIP (Network of African Women In Politics).
The name Hawa Yakubu according to her admirers is legend, a mother to many and a comforter to the destitute.
Madam Yakubu has a foundation known as the Hawa Foundation, dedicated to women and children and all those who through the art of politics seek a new and better world.
The mission of the foundation is to pursue, preserve and disseminate information, and provide the platform to test boundaries and structures of knowledge thereby cultivating the critical intellect.
The foundation also seeks to advance the study and understanding of Madam Yakubu who until her death was the first vice chairperson of the ruling New patriotic party.
Before the 1981 coup she was into active politics where she was the national women's organiser for the United National Convention (UNC) party where she mobilised the youth and women for the party.
This made her a target after the coup and some people within the system who had personal grudges against her came after her which made her to flee from the country to London for ten years from 1982 to 1992.
She went with her two sons Felix and Derek, from her first marriage to Amadu Ayebo. Her new abode created a distance and a barrier between her and the husband which eventually led to the collapse of the marriage.
She married captain Hodge Ogede, a pilot at Nigeria Airways with whom she had two girls, Amanda Ogede and Dieudonee Ogede.
Series of threats on her life and her devotion to politics took a greater part of her family life. Captain Ogede who increasingly got worried as a result of the constant threats at his wife and family decided to seek solace by opting out of a rather happy marriage.
Yet again on the wheels of politics she lost her second husband; the relationship collapsed irreparably. She lost her beloved son Felix in the 2000 round up to the elections, leaving her with one surviving son and the two daughters.
In 1992 she returned to Ghana for the final funeral rites of her late mother (Hajia Azore) who died in 1983 upon hearing rumours that her daughter (Madam Hawa Yakubu) had died in exile, which later proved to be a false.
She graduated from the Ghana Institute of Management and Public Administration (GIMPA) last year with a Masters in leadership and Governance.