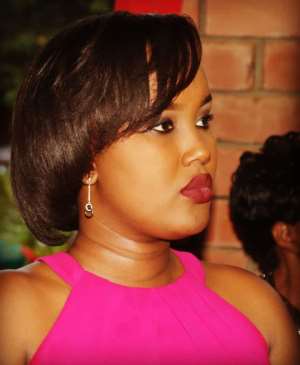 Burundian journalist Floriane Irangabiye was sentenced to 10 years imprisonment on January 2, 2023. (Credit withheld)
Burundian authorities must not contest the appeal of journalist Floriane Irangabiye and ensure that members of the press are not imprisoned for their work, the Committee to Protect Journalists said Friday.
On January 2, the Mukaza High Court in Bujumbura, the capital, convicted Irangabiye of undermining the integrity of the national territory, according to news reports, tweets by Burundi's Ministry of Justice, and the judgment, which was made public on January 3 and which CPJ reviewed. The charge stemmed from her work as a commentator and host on Radio Igicaniro, a diaspora-based online outlet that airs critical commentary and debate on Burundian politics and culture.
The court sentenced Irangabiye to 10 years imprisonment and fined her 1 million Burundian francs (US$482), according to those sources. Her defense lawyers say she plans to appeal the conviction, according to news reports.
Irangabiye has been in custody since her arrest on August 30, 2022, and is being held at Muyinga Prison in the northern province of Muyinga.
"After months of arbitrary detention, Burundian journalist Floriane Irangabiye's sentencing to a decade behind bars demonstrates the state's capacity for cruelty and its deep intolerance for politically critical commentators," said Muthoki Mumo, CPJ's sub-Saharan Africa representative. "Prosecutors should not object to the appeal by Irangabiye's defense team, and Burundi should amend its laws to address vague provisions that can be used to target critical journalists."
During the trial, prosecutors cited an August 2022 Radio Igicaniro program in which Irangabiye and guests criticized Burundi's government and accused its leaders of being thieves and trampling on citizens' rights, according to court documents reviewed by CPJ.
Prosecutors, who said that an audio recording of the program was found on Irangabiye's phone after her arrest, accused the journalist of calling for public rebellion and the overthrow of the government, according to those documents.
As part of their evidence, prosecutors cited Irangabiye's frequent travel between Rwanda, where she lives, and Burundi, where she was born and her family lives, as well as photos in which the journalist appeared with Rwandan President Paul Kagame and former Burundian President Pierre Buyoya, according to those sources. In 2020, Buyoya, was convicted in absentia of the murder of another Burundian president.
Prosecutors also accused Irangabiye of participating in meetings organized by civil society groups to empower young men in exile to overthrow the Burundian government.
Irangabiye and her defense team asserted that she had the freedom to express herself as a journalist, denied that she had participated in any of those meetings, and asked the court to disregard the information gained from interrogations carried out by intelligence officials as Irangabiye was without legal counsel, according to the court documents, which said the court dismissed that request.
Sylvestre Nyandwi, Burundi's prosecutor general, sent CPJ a statement via messaging app saying that Irangabiye's case complied with Burundian procedures and laws and that the conviction was not politically motivated.
CPJ emailed the Ministry of Justice and sent requests for comment via messaging app to Justice Minister Domine Banyankimbona but did not immediately receive any replies.