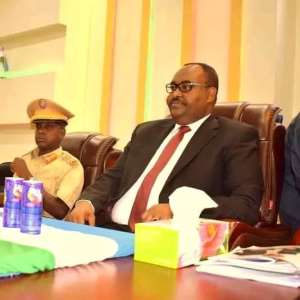 Sa'id Abdullahi Deni, President of Puntland Regional state of Somalia
The current president of Puntland regional state of Somalia Sa'id Abdullahi Deni has announced his candidacy for the President of federal government after he vowed to oust the current president believing he put the country on a dangerous path.
Sa'id Abdullahi Deni has been the president of Puntland since 2019. During his tenure he made few remarkable jobs like holding one person one vote election in three districts which was new to the electoral model of the nation. But this post gave him the power to appoint loyal MPs and senators from puntland whom are expected to vote for president in the federal parliament.
Many analysts have been critical of his rule in Puntland for the past year after he waged a bloody war against the Puntland security forces in Bosaaso which had claimed the lives of 50 people with hundred injuries and thousands displaced. This weakness in his administration is seen as the reason why he would most likely fail to lead such diverse politics at the national stage.
Somalia votes for its president through indirect elections. Members of parliament and senators from regional states combined vote for the president. And since Sa'id Deni had already secured Puntland's share of mps and senators through intimidation and force he is trying his hand on leading the federal government when in fact he failed on his own region.
However, after announcing his candidacy Mr Deni had paid visit to UAE and stayed there for a week. It's well believed Deni received funds from the Arab nation of Emirate which had been ousted by the federal government after engaging with illegal activities in the country. It's therefore precisely clear why Mr. Deni's win would serve the interest of the UAE.
Deni therefore, is believed he's ill-equipped to maintain the order of our fragile democracy. He used to remove those with opposing views in the state parliament, when in fact there's no such law that gives him the power to do so. Somalia has long path to go, but with Deni in office, it'd most probably fail.