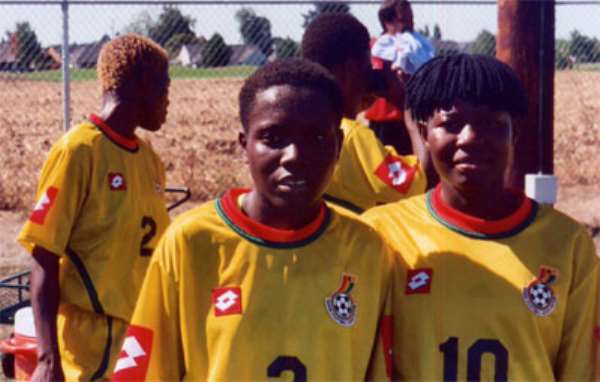 In this land of plenty, the WUSA's death last week was a reminder that corporate sugar daddies don't necessarily give to every worthy cause. America's female soccer players will have to face this World Cup with no promise of future employment in the sport.
But that's a Poor Little Rich Girl story compared to what the national women's team from the west African country of Ghana knows. Though the Ghanaian women - they are known as the Black Queens - hail from a land where soccer balls (and soccer-ball substitutes) are constantly kicked in yards and streets and whatever space is available, neither money nor cultural acceptance easily finds its way to young girls playing the game.
"My friends I knew in school thought I was crazy for my daughter to play soccer; that's the mindset," said Simon Osei-Agyemang, a native of Ghana who raised his daughter in Portland, Ore., and sent her to Columbia University to play the sport.
Mimi Osei-Agyemang - all six feet of her - is the one U.S.-born member of Ghana's World Cup team that will begin first-round play Saturday night in Carson, Calif., against 1999 runner-up China.
Four other Black Queens - Alberta Sackey, Elizabeth Baidu, Adjoa Bayor and Basilea Amoa-Tetteh - got a good glimpse of women's soccer in the U.S. while playing last season for Robert Morris College in Chicago; those four, in fact, formed the core in making Robert Morris an NAIA powerhouse.
Expansive, immaculate fields, sideline water fountains and youth clubs with parents cheering from the sidelines all are revelations to the Ghanaians.
"Alberta and most of the girls that play in Ghana were with a phone company that had a club team," said Kurt Melcher, the Robert Morris coach who first recruited Sackey after seeing her play for Ghana in the 1999 World Cup. "Alberta told me that the women's league had somebody make their hand-sewn uniforms.
"It's not in their culture for women to participate in sports, so they're kind of looked down upon. Certainly, their federation doesn't put much money or effort into it."
In Ghana, where the annual per-capita income is roughly $1,900, young boys instantly produce soccer balls and trigger street play by way of friendly communication with visitors. (And if not a soccer ball, a piece of wood or cardboard box to kick.) But young girls rarely participate.
More likely, the girls are helping support their families by selling various goods off their heads along the streets or in bus stations: They balance large bowls on their heads filled with bags of water, plantain chips, oranges, bananas, bread, toothpaste, eggs and deoderant. Anything one would need at the market.
"You can find little girls in some of the villages following their brothers around and playing," said Alex Kwamina Ninson, a Ghanaian-American living in Spokane, Wash., who helped organize a pre-Cup game for Ghana's team last month. "But, like most African nations and third-world countries, they certainly don't have a Title IX approach."
For lack of formal coaching, the style of play picked up by the few girls who play on the streets is what Robert Morris assistant coach Tom Czop saw during Ghana's World Cup appearance in '99, when the Black Queens lost to China, 7-0. "They're individualistic. Flashy," Czop said. "Alberta has told us that they're taught to play for a show, not to win."
But Osei-Agyemang, who sent his daughter to his homeland as a 16-year-old to begin playing with the national team, was able to talk Black Queens coach Oku Aryee into spending time in the States.
"He observed a big tournament in Arizona," Osei-Agyemang said, "and was shocked to see the level of play of the 12 year olds, 14 year olds. He was convinced to bring his team here a month before the tournament and play [college and club] teams here. And I was delighted when I saw Ghana recently was able to tie China, 1-1."
That sort of result in the World Cup tonight would deserve a celebration. But not with a pizza party, Robert Morris coach Melcher warned.
"After about the 10th time that we bought postgame pizza," he said, "Elizabeth Baidu finally came to me and said, 'Coach, we don't eat cheese. We don't eat pizza. Their food is something closer to Chinese, with rice and things like that. Now I look for a nearby Chinese restaurant."