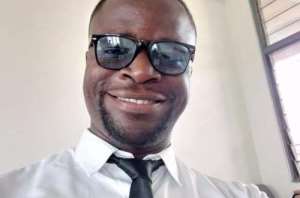 Spokesperson for the Economic Fighter League Mr. John Koomson says about 78 percent of Ghanaians have lost trust in Akufo Addo's government in the fight against corruption, higher than the latest Center for Democratic Development(CDD- Ghana)survey which pegged the figure at 62 percent of citizens losing confidence in the NPP government.
According to him a vast majority of Ghanaians including members of the ruling NPP across 16 regions in the country have expressed discontentment about how the economy and cases of corruption is being managed, therefore doubtful of any future triumph over corruption menace in this administration.
Mr. Koomson was speaking in an interview on Akumadan based CruzFm on Wednesday September 1, 2021 in reaction to the report released by CDD-Ghana insisting that the CSO reached out to just a few amount of Ghanaians hence their arrival at only 62% of pessimists.
"For as much as the report contains truth, it is only a minute fraction of Ghanaians they reached out to but in reality when you assess Ghana as a whole, about 78 percent of Ghanaians have lost trust in this government including their own party people".
"I have traveled across the 16 regions in this country. because of the fact that we are calling on the government to help fix this country, we have traveled, we have gone to places, we have looked at people, we have spoken to people, we have gone into the lives of people", he stated.
The survey as presented by Research Director at CDD-Ghana, Edem Selormey was carried out between May 3, and June 3 this year, involving 2,400 adult respondents from all the 16 regions in the country.
Majority of respondents (62%) indicated their lost of confidence and trust in the Akufo Addo government's ability and commitment to protect our public purse for the next 4 years
Mr. Koomson noted that, among several factors that accounted for public mistrust of the government is the 79 percent salary adjustment for article 72 office holders while the rest of public sector workers received meager 4 percent salary increase by a committee set up by the president.
The economist cum lawyer therefore urged president Addo-Dankwa Akufo Addo to relinquish his post for what he considers as failure to competently manage the country's resources as his best advice to him.
He noted that the government inability to honour most of his promises prior to the elections is another contributing factor for the loss of public trust "governance is about trust and if the people lose trust in your government, you lose the people and every survey set in a way indicates that the people have lost trust in the NPP government. I have lost mine and I know a lot of other Ghanaians have lost theirs too all because of the fact that they said things that made we floating voters believe in them."
"my best advice to the president should we meet one on one would be for him to step down! yes he should step down because he is clueless, he is completely clueless!", The fix the country campaigner outbursted.