It has been widely reported that Germany intends to restitute looted Benin artefacts that it acquired from the British after the notorious British invasion of Benin in 1897. (1) As every reader knows, possession of these artefacts by Germany and other European States and their museums has been the subject of contention for decades. We have dealt with various aspects of this issue in more than 200 articles, stressing the illegal, unjust, and immoral nature of the European detention of the cultural artefacts of Benin. (2) A main German argument has been that they acquired legally the Benin artefacts through purchase on the free market. (3) In reality, even though the Germans were not involved in the actual looting in 1897, they were accomplices after the fact. The invasion was in winter 1897 and by spring of the same year the artefacts were on sale and were purchased by many European and American institutions and individuals knowing fully well that these were stolen items. Indeed, the catalogues of most auctioneers stated that the objects were fresh from the conquest and even some of the objects had blood on them. (4)
After decades of debates on the restitution of Benin artefacts, with Benin/Nigeria incessantly demanding restitution and Germany and other European States ignoring the request, the Director of the newly built Euro700M. cultural centre, Humboldt Forum, announced, to the surprise of many, that the Benin artefacts will no longer be displayed in the Humboldt Forum as planned. Hartmut Dorgerloh stated that the Benin artefacts can no longer be shown as envisaged but did not give any explanation for this sudden change of a long-held position. According to the Süddeutsche Zeitung, Andreas Görgen, head of the cultural department of the German Foreign Ministry was in Benin to discuss an agreement with the Nigerian authorities. Under the agreement, Germany would participate in archaeological excavations in the region, train Nigeria museum employees, participate in the construction of the new museum in Benin City, and restitute the Benin artefacts from Berlin to the Restoration Legacy Trust, an NGO established in 2019.
The German foreign minister, Heiko Maas, said the repatriation issue was part of an "honest approach to colonial history", adding that "It is a question of justice."
Preceding this extraordinary change of position has been decades of criticism of the German and other European positions. Many NGO's, especially those united under the name of No Humboldt 21, had attacked the idea of showing looted artefacts in the newly built institution because of the illegality of acquisition. Bénédicte Savoy resigned from the Humboldt Forum Board of Experts for the same reason. The Sarr-Savoy report (2018) which had been commissioned by President Emmanuel Macron, France, set in motion activities that are still being felt that question whether it was not time to return the looted artefacts.
Criticisms by scholars, activists and others had made it difficult for the newly constructed Humboldt Forum to insist on displaying looted Benin artefacts without any further explanation. Bénédicte Savoy also stated in her recent book, Afrikas Kampf um seine Kunst, (Africa's Struggle for its Art) and in a Spiegel interview that such a display was wrong and that 'with every month, with every day, it becomes less likely that you can show the bronzes without embarrassing yourself'. (5)
The announcement by Humboldt Forum has been received by many as a welcome development. But what did the director of the Humboldt Forum really state? Hartmut Dorgerloh told the German press on Monday, 22 March, that the 440 Benin artefacts, half of which were to be displayed in the Humboldt Forum, could no longer be exhibited; only replicas of the bronzes would be shown or replaced by symbolic empty spaces and that the artefacts could be returned to Nigeria as soon as this autumn. A spokesperson of the Prussian Foundation for Cultural Heritage added that the exhibition which is to open at the end of this year would 'critically engage with the history of the West African kingdom and its conquest by British troops.' (6)
This German initiative would be one of the great surprises in restitution matters if it is ever realized and should have a similar seismic impact as the Ouagadougou Declaration in 2017 by President Macron on the need to return African artefacts to Africa. Indeed, since the German statement includes a probable actual restitution soon, it should be assessed higher than the declaration of the French President. Many who have followed the German position in the restitution debate are surprised even though we hope it is a sincere effort to find a long-term solution to the problematic Benin artefacts in German museums.
What surprised me most about the declaration by Hartmut Dorgerloh, apart from its unexpected reversal of German position, was that it was made by the Director of Humboldt Forum and not by the President of the Prussian Cultural Heritage Foundation who is considered as representing the Foundation that holds ownership rights in the Benin artefacts. Could there have been an arrangement by the two institutions that the one who has no right to dispose of the Benin artefacts makes such a declaration whilst the one with ownership rights keeps quiet? It is true that Hartmut Dorgerloh added that the actual decision on restitution would be taken in September by the PSK (Prussian Foundation for Cultural Heritage).' Hermann Parzinger ,President of the Prussian Foundation for Cultural Heritage has in a recent interview indicated willingness to consider restitution of the Benin artefacts.
The statement that the Benin artefacts can no longer be displayed in the Humboldt Forum was later retracted with the information that the Forum is organising an exhibition from September 2021 to November 2022 in which the Benin artefacts will be shown and discussed. Artefacts displayed until November 2022 cannot obviously be sent to Nigeria by the end of 2021.
What also concerned me is that in both official and non-official statements it is not clear whether we are dealing with mere return or with full restitution of ownership rights to the original owners of the artefacts. What also should be made clear is whether one is talking about the Restoration Legacy Trust which has already been established in 2019 or a new trust to be established. (7)
In my opinion a restitution of the Benin artefacts must be made to the original owner, the Oba of Benin, who may decide to put his property into a trust for his people, administered by trustees chosen by him or his people. This cannot involve trustees chosen by the previous illegal holders or their representatives for they would be benefitting from their own wrongdoing and injustice. The general legal principle here is Ex injuria jus non oritur, law or right does not arise from injustice. Those who have caused injury to the Benin people through violence and theft cannot now, when asked to restitute the looted objects, have the right to determine the future use and destiny of the objects for which many Benin lives were sacrificed. The attempts by the so-called international stakeholders to have a say in Benin/Nigerian arrangements is a continuation of the long held arrogant European view that they have a God-given right, if not a duty, to supervise Africans and the use of their resources including their cultural artefacts. They believe Africans alone cannot run their own affairs unless supervised by Europeans. When will this arrogant assumption ever end? Could anyone imagine the victims of Nazi confiscations putting on board of trust of an organization to support victims of Nazi atrocities a member of a group that supported horrific acts of the Nazi regime?
The Humboldt Forum and the Ethnological Museum, Berlin, are part of the Benin Dialogue Group which also includes the British Museum, World Museum, Vienna, and other leading European museums which some time ago formally declared that restitution was not part of their agenda. When we reported on this, we were savagely attacked by the late Prof. Folarin Shyllon who however agreed that the item should not have been removed from their agenda. (8) We do not know whether that restitution has been put back on the agenda, but many reports assume that the group was working all the time on this. The group had declared that the issue was a bilateral matter between Benin/Nigeria and the individual States represented in the group that was willing to grant only loans of the artefacts to Benin/Nigeria.
The declarations by the German Foreign Minister, Heiko Mass, by Andreas Görgen and by Helmut Dorgerloh seem to ignore the federal nature of the German political system and the fact that ownership rights in the artefacts in most ethnological museums lie with the Federal States, Länder, whose express consent will be necessary for decisions to restitute artefacts. It is true that the Federal States had already on 13th March 2019 given their general approval of the principle of restitution but is this enough? Have they probably consulted all concerned? I see now that the Culture Minister of the Bund, Monica Grütters is now calling for a meeting to develop a general national strategy for restitution for Germany. But the statement that was issued by the Prussian Foundation for Cultural Heritage was less enthusiastic for restitution and presented restitution as one of many possible solutions. The Foundation in its statement of 24.3.2021 authorised its President, Hermann Parzinger, together with the culture ministers of the lander and directors of German museums holding Benin artefacts to develop a common strategy for Germany. The Benin artefacts are recognized as having been acquired in a context which according to today's standards would be considered as unjust context. The reference to today's standards clearly implies that the acts were not wrong at that time. The statement of the Prussian Foundation does not give the impression that Germany is in a hurry to return any Benin artefacts. But it will certainly reduce the pressure on the Germans and Europeans and their museums and enable them to seek a solution short of wholesale restitution.
Culture Minister Grütters has also announced the intention of holding a meeting with museums officials and representatives from the Foreign Ministry on developing a common strategy for Germany. She also stated that it is important that the Germans come to a common understanding with representatives of societies of origin of source countries which can also include restitution..
The German initiative at restitution would have a tremendous impact on the restitution debate and above all, put tremendous pressure on the other European States that hold Benin artefacts such as Austria, Netherlands, France, and Britain. World Museum, Vienna, will undoubtedly be pressed to accelerate restitution of its 196 Benin objects and to abandon all pretext of provenance research.
The Netherlands have already put into place principles and mechanisms for restitution that would enable them to expedite restitution of Benin artefacts without undue pressure from the German initiative. (9) Indeed, the Dutch immediately came out with the information that out of the 184 Benin objects in the National Museum of World Cultures in the Netherlands,114 were clearly looted by British troops. These are collections in the Museum of Ethnology in Leiden, the Tropenmuseum in Amsterdam, the Africa Museum in Berg en Dal and the Wereldmuseum in Rotterdam. (10) The Dutch have delivered a study of provenance research on their Benin artefacts which can only be described as excellent We have not seen similar studies from other countries.
France may be able to resist the pressure from the German initiative for a while having recently passed a narrow legislation authorising restitution of 27 artefacts to Benin Republic and a sword to Senegal. But this is certainly, in the long run, not good enough. There is a need for a general legislation that enables restitution of looted African artefacts. (11)
Britain would feel most the pressure coming from German restitution of Benin artefacts. The UK is the least willing and prepared country for restitution. But if Germans feel it is wrong to display the looted Benin artefacts, how would the museums of the State that organized the Benin invasion of 1897, looted the artefacts, and sold some to Germany and other countries justify continued holding or display of the looted artefacts? Would the usual bland declaration by the British Museum suffice?
"We believe the strength of the British Museum collection resides in its breadth and depth, allowing millions of visitors an understanding of the cultures of the world and how they interconnect over time – whether through trade, migration, conquest, or peaceful exchange." (12)
Could this worn-out justification for holding on to looted artefacts be sufficient to resist the pressure from German restitution? Would Hartwig Fischer continue to pursue a line of defence which is diametrically opposed to the aims of the Black Lives Matter with which he allegedly sympathises? (13)
A day after the announcement of the German initiative, there are signs that regional museums in the UK will not follow the British Museum in its inflexible position. The University of Aberdeen has announced that it intends to restitute a Benin bronze to Nigeria very soon. Prof George Boyne, the university's principal and vice-chancellor of the University declared:
"It would not have been right to have retained an item of such great cultural importance that was acquired in such reprehensible circumstances. We therefore decided that an unconditional return is the most appropriate action we can take, and are grateful for the close collaboration with our partners in Nigeria," (14)
This is in defiance of the recent policy of the British Government that museums should retain controversial artefacts and explain them to their visitors rather than return them or move them. (15) Cambridge Museum of Archaeology and Anthropology, which holds a large collection of bronzes said that if a claim were made for an artefact with 1897 provenance , the expectation would be that it would be returned. Bristol Museum and Art Gallery said it was "open to all possibilities" and is actively working with Nigerian groups. Others, including the Great North Museum in Newcastle upon Tyne and Royal Pavilions and Museum in Brighton are busy researching the origin of their bronzes before any decision would be made. (16) Thus, the regional museums in UK will not blindly accept the recent government demand that they paint a better picture of British colonialism.
The guidelines for British museums in handling objects acquired in colonial context have not yet been issued. It could well be that the authors are no longer sure of the general orientation they should give to the rules, finding themselves between the progressive stance of German and Dutch museums and the immovable position of the British Museum, buoyed by recent government threats.
The German decision to restitute Benin artefacts, borders on the miraculous when one considers the German position until now and all the strenuous efforts deployed to avoid accepting any duty to return looted artefacts. Intrigues and strenuous efforts at ministerial and directorial levels to prevent restitution have been described in detail by Bénédicte Savoy in her recent book, Afrikas Kampf um seine Kunst (Africa's Struggle for its Art).
Whilst welcoming the German initiative at restitution, we must wait for final assessment of its worth. We have often had in the restitution debate situations in which the impression was made that concrete restitution was about to happen only to realize that nothing or little is changing. The statement of the Prussian Cultural Heritage Foundation and the series of meeting projected to define a common strategy are grounds for caution rather than euphoria. Would the German initiative which at this stage seems serious be different? Or are we likely now hear a litany of all the difficulties in the way of restitution? And what about provenance research?
Whatever may be the eventual outcome of the German initiative, we should remind ourselves that the Benin artefacts are just one group of looted African artefacts. Asante, Ethiopian, Yoruba, and Kenyan artefacts as well as many more are all waiting for restitution.
Kwame Opoku.
NOTES
1. . https://www.sueddeutsche.de/kultur/museen-benin-bronzen-rueckgabe-humboldt-forum-1.5243677
https://www.globaltimes.cn/page/202103/1219464.shtml
https://www.theguardian.com/artanddesign/2021/mar/23/berlins-plan-to-return-benin-bronzes-piles-pressure-on-
https://profile.theartnewspaper.com/sign-up?origin=https://www.theartnewspaper.com/news/germany-mov
https://www.telegraph.co.uk/news/2021/03/23/berlin-plans-hand-back-benin-bronzes-nigeria-autumn-piling-pressure/
2. K. Opoku, Benin in Berlin: a successful reconciliation of the aesthetic and the ethnological. http://www.elginism.com/similar-cases/the-benin-bronzes-go-to-berlin/20080322/1048/
Did Germans never hear directly or indirectly Nigeria's demand for return of looted artefacts? https://www.no-humboldt21.de/information/nigeria/?fbclid=IwAR29oC28AnpLLodfRaUBfKzhm7s0tXFy8VdJoU7NgKbYF
How often will Germany insult Nigeria when demands are made for restitution of looted artefacts? https://www.modernghana.com/news/1052752/how-often-will-germany-insult-nigeria-when-demands.html
From restitution to digitalization: looted Benin treasures to go online. https://www.modernghana.com/news/998338/from-restitution-to-digitalization-looted-benin.html
Germans debate legitimacy and legality of looted artefacts in Ethnology Museum, Berlin https://www.modernghana.com/news/510010/germans-debate-legitimacy-and-legality-of-looted.html
Why do Europeans, even Intellectuals, have difficulty in contemplating the restitution of stolen African cultural objects? Wolf Lepenies and the Ethnology Museum, Berlin.https://www.modernghana.com/news/163705/why-do-europeans-even-intellectuals-have-difficu.html
Will provenance research delay restitution of looted African artefacts? https://www.modernghana.com/news/1067847/will-provenance-research-delay-restitution-of-loot.html
3. K. Opoku, Germans debate legitimacy and legality of looted artefacts in Ethnology Museum, Berlin https://www.modernghana.com/news/510010/germans-debate-legitimacy-and-legality-of-looted.html
4. The notorious W. Downing Webster mentioned in his catalogues that the objects had just come from the field. Titles of auction catalogues were enough to inform purchasers of the source of the objects to be sold. One such catalogue from Webster was entitled Illustrated Catalogue of Ethnographical Specimens, in Bronze, Wrought Iron, Ivory and Wood from Benin City, West Africa, Taken at the Fall of the City in February 1897, by the British Punitive Expedition under the Command of Admiral Rawson 21.
5. Der Spiegel, Nr.12/20.3.2021, ' Die Depots sind voll,' pp.42-44.
6. https://www.sueddeutsche.de/kultur/museen-benin-bronzen-rueckgabe-humboldt-forum-1.5243677
7. https://www.sueddeutsche.de/kultur/museen-benin-bronzen-rueckgabe-humboldt-forum-1.5243677
8. K. Opoku, Benin Dialogue Group removes restitution of Benin artefacts from its agenda.
https://www.modernghana.com/news/924239/benin-dialogue-group-removes-restitution-of-benin.html
In a Press Statement of 24.3.2021 the Benin Dialogue Group Steering Committee seemed to have found a way of reintroducing restitution to its agenda without commenting on the earlier astonishing deletion of the item from its agenda. https://www.preussischer-kulturbesitz.de/fileadmin/user_upload_SPK/documents/presse/news/2021/210324_BeninDialogueGroup_Press_Statement_24.3.21.pdf
List of Participants in the Benin Dialogue Group, Benin City, 2019
Edo State Government, Nigeria
The Royal Court of Benin, Benin City, Nigeria
National Commission for Museums and Monuments, Abuja, Nigeria
Weltmuseum Wien, Vienna, Austria
Ethnologisches Museum, State Museums of Berlin, Prussian Cultural Heritage Foundation, Berlin, Germany
Museum am Rothenbaum, Kulturen und Künste der Welt (MARKK), Hamburg, Germany
Staatliche Kunstsammlungen Dresden, Museum für Vӧlkerkunde Dresden und GRASSI Museum für Vӧlkerkunde zu Leipzig, Germany
Linden Museum, Stuttgart, Germany
Nationaal Museum van Wereldculturen, Leiden, The Netherlands
National Museums of World Culture, Stockholm, Sweden
Museum of Archaeology and Anthropology, University of Cambridge, Cambridge, UK
British Museum, London, UK
Pitt Rivers Museum, University of Oxford, Oxford, UK
9. K. Opoku, Dutch are taking giant steps towards restitution of looted artefacts.
https://www.modernghana.com/news/1043306/dutch-are-taking-giant-steps-towards-restitution.html
10. https://www.dutchnews.nl/news/2021/03/four-dutch-museums-have-114-benin-city-items-in-their-collections/
11. K. Opoku, France moves closer to restitution of artefacts to Benin and Senegal.
https://www.modernghana.com/news/1019889/france-moves-closer-to-restitution-of-artefacts.html
12. https://news.artnet.com/art-world/restitution-benin-bronzes-humboldt-forum-1953883
13. K. Opoku, British Museum supports aims and objectives of Black Lives Matter? The height of hypocrisy!
https://www.modernghana.com/news/1009442/british-museum-supports-aims-and-objectives-of.html
14. https://www.theguardian.com/world/2021/mar/25/university-of-aberdeen-to-return-pillaged-benin-bronze-to-nigeria
15. The British Governments' s unexpected and unusual attack on academic freedom and the liberty of British historians, and institutions to interpret British colonial history as they understand from the available evidence, is contained in a letter dated 22 September 2020 from Oliver Dowden, Secretary of State for Digital, Culture, Media, and Sport.
https://assets.publishing.service.gov.uk/government/uploads/system/uploads/attachment_data/file/922293/22-09-20_Letter_to_DCMS_ALBs.docx
Unions fear government wants museums to 'airbrush' UK history | Museums | The Guardian
https://www.reuters.com/article/uk-global-race-britain-statues-idUKKBN26J2Z3
This letter is worth studying for the subtle style of which British Governments are known to be masters. The way threats are couched in innocent or harmless phrases. Culture Secretary Oliver Dowden said that government-funded museums could lose taxpayer support if they remove artefacts. But the British Museum said it will instead "contextualise" such items.
In a statement to the BBC, it said: "The British Museum has no intention of removing controversial objects from public display.
"Instead, it will seek where appropriate to contextualise or reinterpret them in a way that enables the public to learn about them in their entirety."
British Museum 'won't remove controversial objects' from display - BBC News
16. University to return Benin bronze https://www.abdn.ac.uk/news/14790/ Regional museums break ranks with UK government on return of Benin bronzes. https://www.theguardian.com/world/2021/mar/26/regional-museums-break-ranks-with-uk-government-on-return-of-benin-bronzes
ANNEX I
LIST OF GERMAN HOLDERS OF BENIN ARTEFACTS
Almost every German museum has its own collection of Benin artefacts but information on numbers of artefacts is not easy to obtain. Below is a non-exhaustive list of holders that we could identify, from catalogues, internet, and publications of the museums. In view of the growing interest of the public in these artefacts, perhaps the museums could finally publish a full list of the Benin artefacts they have been in their possession. I understand that within the context of the Benin Dialogue Group, lists of the Benin collections of members of the group have been exchanged but following the well-established attitude of the museums, they do not feel obliged to inform the public. Perhaps the Ethnology Museum could finally inform us whether it has 440, 500, 504 ,520, 530 or 580 Benin artefacts. The museum could ,for the record, explain the differences in figures we have seen at different times. Have some been sold or exchanged since Felix Luschan stated they had 580 pieces? K. Opoku, Loot in Loot -Benin head of Oba in Nazi- looted Jewish art collection to be auctioned,' https://www.modernghana.com/news/837518/loot-in-loot-benin-head-of-oba-in-nazi-looted.html
Berlin – Ethnologisches Museum/ Humboldt Forum -580.
Cologne – Rautenstrauch-Joest-Museum - 73.
Dresden – Staatliches Museum für Völkerkunde -182.
Frankfurt am Main - 51.
Hamburg – Museum at Rothenbaum-196.
Leipzig – Museum für Völkerkunde - 87.
Munich- Museum Fünf Kontinente - 25.
Stuttgart – Linden Museum-Staatliches Museum für Völkerkunde - 80.
According to Kathy Curnow, the following German cities have each not more than 25 Benin artefacts - Braunschweig, Bremen, Dusseldorf, Freiburg, Göttingen, Hannover, Heidelberg, Hildesheim, Mannheim, and Ulm.
Kathy Curnow, IYARE! Splendor & Tension in Benin's Palace Theatre, 2016, p. 201, WWW.IYARE.NET Printed in the USA by Amazon.com
ANNEX II
BENIN ARTEFACTS IN PRIVATE COLLECTIONS IN GERMANY.
In discussions on the restitution of looted Benin artefacts, attention is generally focussed on the major public museums in Europe and USA that tend to have large collections of the precious treasures that are sorely missing in Benin City and Nigeria and indeed on the whole continent of Africa. The story that Benin artefacts are spread all over the world is, of course, a myth. The truth is that most of the Benin artefacts are in the Western world, especially, United Kingdom, Germany and in the United States.
Many private persons or institutions in the Western world have their own collections but have so far not been touched by the plea of Nigerians to return the looted artefacts. The only case of return by a private person is that of the Briton, Mark Walker who returned to the Oba of Benin artefacts that he inherited from his great-grand-father. Other private persons and institutions do not seem to be moved at all by the plea to return some of the looted Benin artefacts.
Consideration must be given to how private persons and institutions could be persuaded to return Benin artefacts in their possession for, all Benin artefacts of good quality, whether in public or private possession, are part of the loot of 1897 when the British stole them from the palace of Oba Ovonramwen and burnt his city down.
The number of private holders of Benin artefacts in Germany is not known but one can get an idea of the quality of Benin and African arts in private hands in Germany by consulting books such as Dorina Hecht and Gunter Kawik (eds.) Afrika und die Kunst-Einblicke in Deutsche Privatsammlungen,2010, Kawi Verlag, Bottrop, Germany.
ANNEX III
BENIN ARTEFACTS OUTSIDE NIGERIA IN AFRICA.
It is very doubtful whether outside Nigeria, many African countries have even one Benin artefact. This contradicts the erroneous view often expressed that the Benin artefacts are spread all over the world They are spread only in the Western world. Do Africans not need to know about the famous Benin bronzes, especially as the image of queen-Mother Idia has become a Pan-African symbol since FESTAC '77 when the British Museum arrogantly refused even to 'loan' the ivory hip-mask to Nigeria?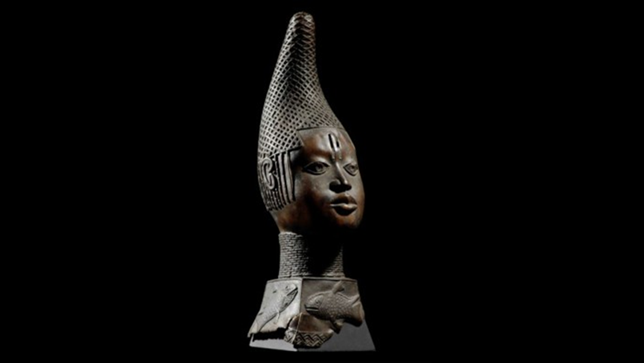 Queen-Mother Idia ,Benin, Nigeria, now in Humboldt Forum ,Berlin, Germany. One of the looted Benin artefacts that were to be shown in Humboldt Forum. Photo-Ethnology Museum, Berlin. Photo: Ethnology Museum, Berlin, Germany
.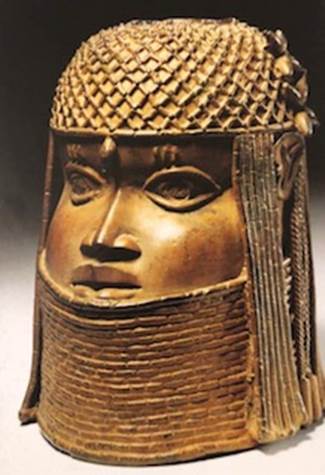 Commemorative head of an Oba, Benin, Nigeria, now in Humboldt Forum, Berlin, Germany.

"Benin Bronze": University of Aberdeen dey return Benin Bronze to Nigeria
Head of an Oba ,Benin, Nigeria ,now in University of Aberdeen Museum, UK. The sculpture will soon return to Benin, Nigeria.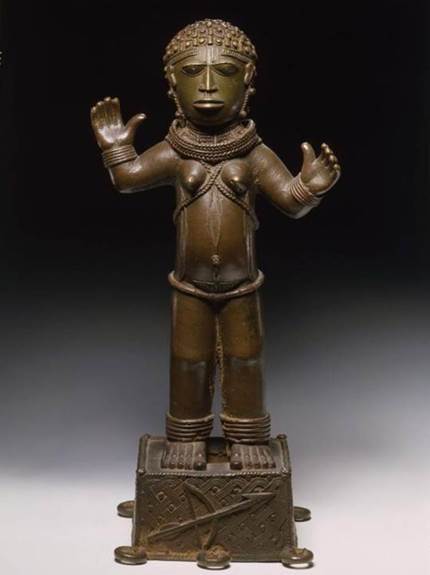 Female figure, Benin, Nigeria now in Humboldt Forum, Berlin, Germany.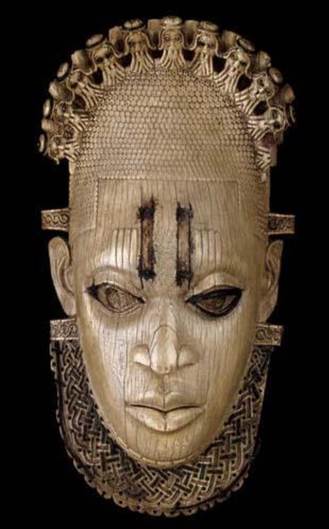 Queen-mother Idia, hip mask ,Benin, now in British Museum ,London, UK.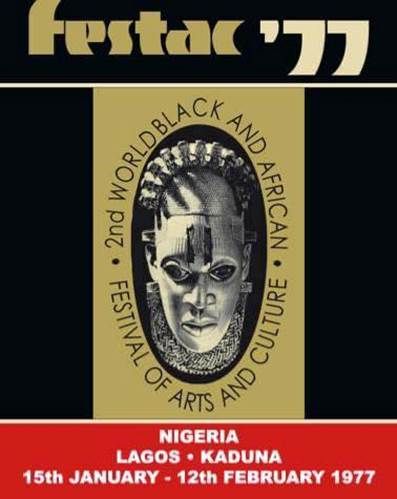 FESTAC 77 Poster.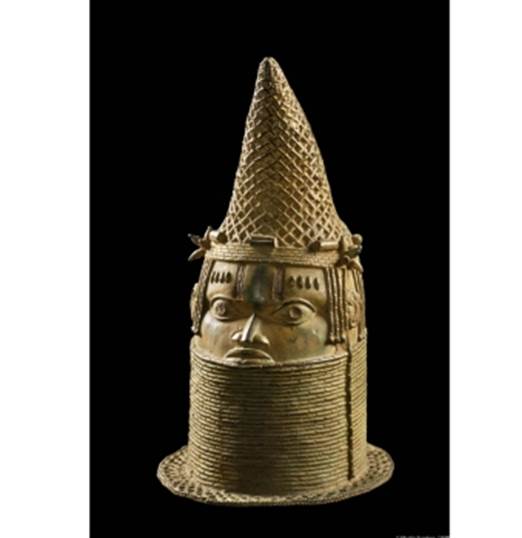 Commemorative head of a Queen-Mother, Benin, Nigeria, now in Ethnology Museum, Berlin, Germany. Photo Martin Franken.