Two Artefacts Returned By Dr. Mark Walker. rbp.blogspot.com
'Culture is the soul of a nation. The illicit removal or destruction of cultural property deprives peoples of their history and tradition. Restitution is the only means that can restore damage and reinstate a sense of dignity'.
Anastassis Mitsialis, Permanent Representative of Greece to the United Nations. Presentation of the Resolution titled, 'Return or restitution of cultural property to the country of origin 'A/RES/67/80, 12 Dec. 2012.
We are overjoyed by the news coming out of Benin City, Nigeria, that a British citizen has returned two looted Benin artefacts, a long beaked bird, and a gong, to Oba Erediauwa of Benin on Friday 20 June 2014. www.punchng.com ›
www.afp.com/.../looted-nigerian-art-returned-traditi.
bp.blogspot.com
www.channelstv.com/.../briton-returns-artefacts-take.
www.afp.com/.../looted-nigerian-art-returned-traditi.
As readers will remember, we mentioned some weeks ago the intention of Dr.Mark Walker, a British citizen, to return to Benin two looted Benin artefacts he had inherited from his great grand-father who participated in the notorious invasion of Benin in 1897, the so-called Benin Punitive Expedition. http://www.modernghana.com/news/533823/1/will-other-holders-of-benin-bronzes-also-return-th.html
Readers may also recall the controversy surrounding the question whether the returned objects should be received in Abuja, the Federal capital of Nigeria or in Benin City from where they were removed in 1897. http://www.modernghana.com/news/546819/1/who-should-receive-returning-benin-artefacts.html
It appears the Minister for Culture and Tourism and officials of the National Commission for Museums and Monuments (NCMM) who had been invited were absent from the events in Benin.
Dr Walker and all those who supported him in his desire to return the objects to Benin should be congratulated. By his personal action, he has demonstrated beyond all doubt that there are individuals who believe that justice should be done in cases of looted artefacts taken from African peoples by Europeans through their overwhelming might. Persons of conscience are troubled by historical wrongs and try to do whatever they can to alleviate patent injustice.
By his action, Walker has dealt a singular blow to the spurious argument, surprisingly advanced by many Westerners that by seeking the return of looted artefacts we are trying to re-write history. By returning the Benin artefacts, Walker has not sought to rewrite British colonial history; he has made history by returning two artefacts that relate to the present imbalance where other peoples-Americans, British, Dutch, French, Germans and others have more valuable historical and cultural Benin artefacts than the Benin people themselves. This obvious imbalance seems to escape some persons who declare their attachment to the Benin people and their culture but oppose restitution of the looted artefacts. To seek to correct this present unjust situation brought about by massive violence is not to attempt to rewrite history: it demonstrates concrete acceptance of the ideas of the Declaration of Human Rights (1948) and other instruments that aim at equality of all humankind, irrespective of race, religion culture and sex.
To hijack the cultural artefacts of a people is to prevent them from developing their culture freely and to practice their religious traditions, including veneration of ancestors and respect towards departed elders. Confiscation of the artefacts of other peoples is a step towards the destruction of that culture through stagnation and immobility. It cannot be said of Western museums that they should be forgiven for they know not what they are doing. They know.
We have examined in several articles the issues relating to the nefarious invasion of Benin and the looting/stealing of more than three thousand artefacts that are now mostly in Western museums. http://www.modernghana.com/news/441891/1/declaration-on-the-importance-and-value-of-univers.html
www.museum-security.org/.../dr-kwame-opoku-writ.
As the Oba of Benin has stated several times and again on the return of the two artefacts by Walker, the holders of Benin artefacts, public and private, are urged to return some of these artefacts that are the records of Benin history. Western museums,_ the British Museum, London, Musée du quai Branly, Paris, the Ethnologisches Museum, Berlin, Museum fur Völkerkunde, Vienna, now called World Museum, Metropolitan Museum of Art, New York, Boston Museum of Fine Arts, Boston, Field Museum, Chicago, should examine honestly the issue of restitution and return some of the Benin artefacts they have in their collections.
The World Museum in Vienna has had its African Section where the Benin Bronzes were displayed, closed for the last 14 years. Western museums do not need looted artefacts that are records of Benin culture and history. Nothing can justify the continued detention of some 580 Benin Bronzes by the Ethnologisches Museum in Berlin. How can Germans who are very keen to keep records of their history withhold the records of Benin history and culture? Do Germans need the Benin artefacts more than the Benin people? Can Western museums not imagine the implications for Western countries if their historical and cultural artefacts were to be detained in China or some other country in Asia or Africa?
The noble gesture of Dr.Mark Walker should be an example for all persons of goodwill and good conscience to follow. Western holders of looted Benin artefacts should take note of this historical gesture and stop advancing baseless arguments. Instead they should return some of the looted artefacts.
The Benin Monarchy and the Nigerian Commission for Museums and Monuments must take advantage of Dr.Walker's gesture and step up the campaign to inform the public in both Nigeria and abroad about the Benin artefacts and their history. There is in the Western world an amazing lack of knowledge about these famous artefacts. How can private holders return these objects if they are not well-informed about the circumstances of their acquisition and their cultural importance for Benin? A website should be set up where individuals could send and receive information about the artefacts.
Queen-Mother Idia (British Museum, London), Oba Ewuakpe (Ethnologisches Museum, Berlin, Germany), Oba Akenzua I (Ethnologisches Museum, Berlin, Germany), Oba Ozolua (World Museum, Vienna) and the other Benin nobles, their attendants with their weapons, officials, musicians with their instruments, and families, must return home. They cannot be kept in Western exile for ever.
Kwame Opoku, 24 June 2014
ANNEX.
LIST OF HOLDERS OF BENIN ARTEFACTS
Almost every Western museum has some Benin objects. Here is a short list of some of the places where the Benin Bronzes are to be found and their numbers. Various catalogues of exhibitions on Benin art or African art also list the private collections of the Benin Bronzes. Many museums refuse to inform the public about the number of Benin artefacts they have and do not display permanently the Benin artefacts in their possession since they do not have enough space.
A museum such as Völkerkundemuseum, Vienna, now World Museum, has closed since 14 years the African section where the Benin artefacts were, apparently due to renovation works which are not likely to be finished before 2017.
Berlin - Ethnologisches Museum 580.
Boston, - Museum of Fine Arts 28.
Chicago - Art Institute of Chicago 20, Field Museum 400
Cologne - Rautenstrauch-Joest-Museum 73.
Glasgow _ Kelvingrove and St, Mungo's Museum of Religious Life 22
Hamburg - Museum für Völkerkunde, Museum für Kunst und Gewerbe 196.
Dresden - Staatliches Museum für Völkerkunde 182.
Leipzig - Museum für Völkerkunde 87.
Leiden - Rijksmuseum voor Volkenkunde 98.
London - British Museum 900.
New York - Metropolitan Museum of Fine Art 163.
Oxford - Pitt-Rivers Museum/ Pitt-Rivers country residence, Rushmore in Farnham/Dorset 327.
Stuttgart - Linden Museum-Staatliches Museum für Völkerkunde 80.
Vienna - Museum für Völkerkunde now World Museum 167

Dr. Walker (Right) Presenting To The Oba A Diary Of His Great Grand Father On The British Invasion Of The Benin Kingdom In 1897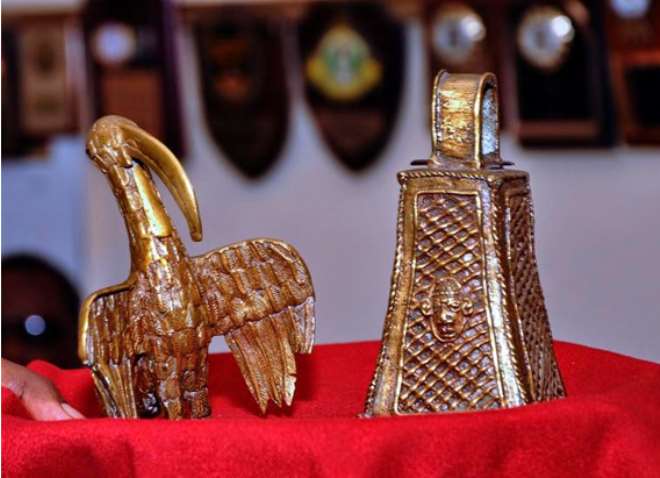 Two Artefacts Returned By Dr. Mark Walker. rbp.blogspot.com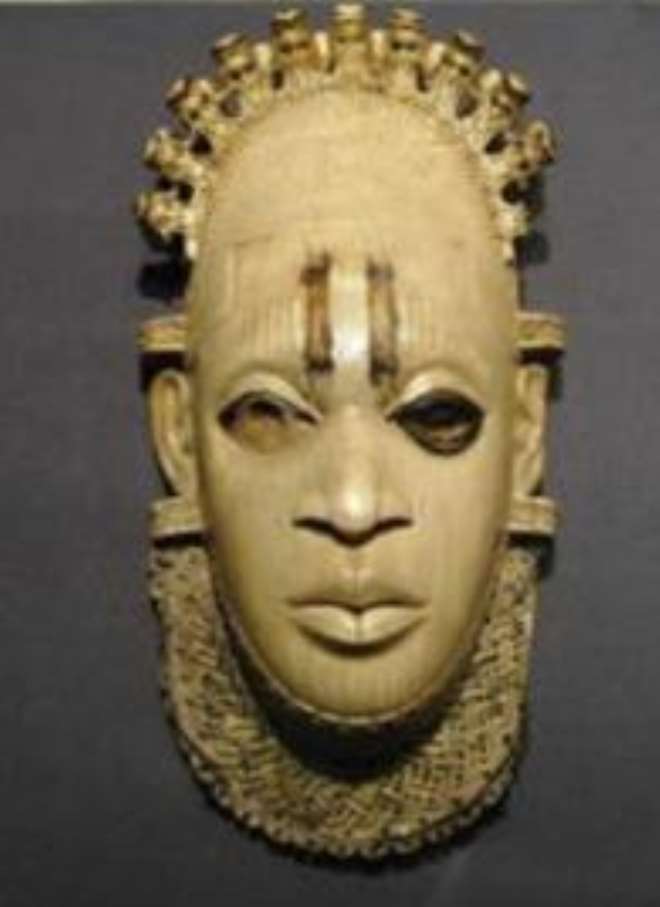 Queen-Mother Idia, Benin/Nigeria, Now In The British Museum.
Seized By The British During The Nefarious Invasion Of Benin In 1897.
Will She Ever Be Liberated From The British Museum?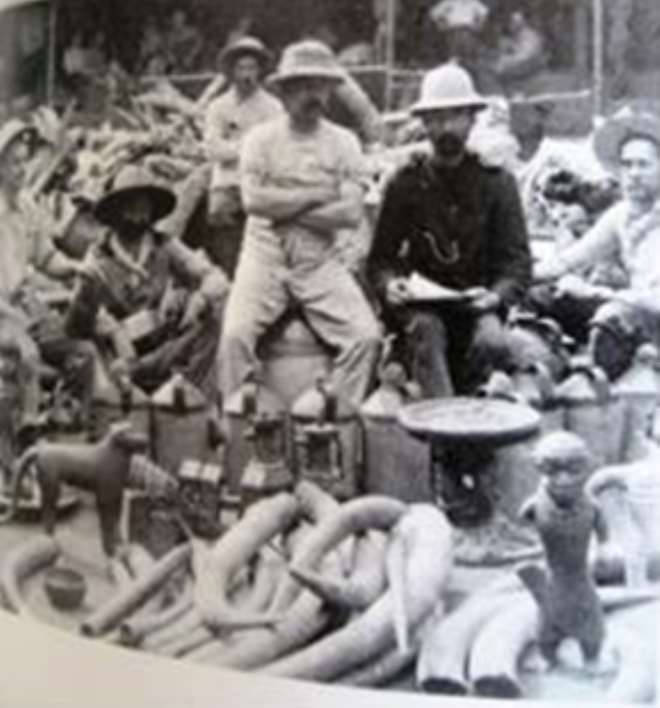 Members Of The Nefarious Punitive Expedition Of 1897 Posing Proudly With Their Looted Benin Artefacts