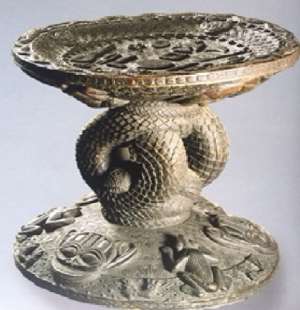 Stool of Oba Eresoyen, Benin, Nigeria, now in Ethnologisches Museum/Humboldt Forum, Berlin, Germany.
"I was moved to silent melancholy at the thought that this assembly of degenerate and feeble-minded posterity should be the legitimate guardians of so much loveliness." Leo Frobenius, on seeing Ile-Ife art. (1)
On the occasion of the opening of the Humboldt Forum, Berlin, Nigeria once again asked Germany for the return of looted Nigerian artefacts in Germany. (2) This was nothing unusual and the response or lack of it, was also not unusual. Germany did not reply to the request of the Nigerian ambassador to Germany, Yusuf Tuggar. A year before the opening, in 2019, Ambassador had made the same request and received no response. Readers can make up their own minds about this undiplomatic behaviour of not responding to a request made by a duly accredited ambassador on behalf of his government. Would Germany have acted this way if the request came from the U.S. or British ambassador in Berlin?
Nigeria has been asking the illegal holders of looted Nigerian artefacts since decades for the restitution of its treasures ,especially since Independence in 1960 but with no success. What is even more insulting is that those Western States that refuse to reply to such requests often turn around and allege that Nigeria has made no request. (3) A good example of this strange behaviour is the declaration made by James Cuno, then Director of the Art Institute of Chicago, now President of Getty Foundation, during the opening of the Benin exhibition, Benin-Kings and Rituals-Court Arts from Nigeria, 2007 at his museum. Cuno said he would consider any request for restitution of the Benin artefacts submitted to him. A Benin royal hand carried such a request from the Benin Royal Family to Chicago and up to today there has not even been an acknowledgement of the request. (4)
Similarly, after the late Oba of Benin, Oba Erediauwa had made a written plea in the catalogue of the exhibition Kings and Rituals Royal Arts from Nigeria in Vienna and the Benin Royal Delegation had made a direct plea for restitution in a symposium at the Vienna Ethnology Museum, now World Museum Vienna, we still hear in 2020 officials of the World Museum saying that no direct demand has been placed before them. (5)
Again, after Prince Edun Akenzua had presented to the British Parliament in March 2000, The Case for Benin, known as Appendix 21, published in Hansard ,the official British Parliamentary report, we still heard officials of British Museum saying that there had not been any formal demand before them. (6) The worst case was when a Nigerian Minister of Tourism, Culture and National Orientation, Prince Adetokumbo Kayode. went to Berlin to present a demand he entitled Berlin Plea for Return of Benin Bronzes, drawing the link between the notorious Berlin Conference of 1885 and the looting of artefacts in Benin City in 1897. German papers started writing that he was more interested in cooperation between Nigeria and Germany rather than the restitution of Benin artefacts. (7)
Hartmut Dorgerloh, director of the Humboldt Forum is reported to have said that the Humboldt Forum is not a museum. But who knows in our times what a museum is? Even ICOM has not been able to define a museum and was split on this issue at its last General Conference. Museum or not, the peoples are asking for the restitution of artefacts are not concerned whether the objects are in museums, libraries, galleries, or colleges. They just want their objects back and Humboldt Forum holds 22,000 of these looted objects. Besides, it is too late now, after two decades of discussions, for the director of the Humboldt Forum to take such a stand to avoid the complications of the restitution debate. The Humboldt Forum has been at the centre of these critical discussions on restitution. The Forum and the Prussian Foundation for Cultural Heritage have always said the Forum is precisely the place for such discussions.(8) They sometimes even appear to be claiming that the discussions on the German colonial past and restitution of looted artefacts, were started by them or at least, encouraged by them. To say now that the issue of restitution is a question for the Prussian Foundation and not for the Humboldt Forum, smacks of lack of courage after the Foundation, which is the main beneficiary of the Benin loot, has for years, defended Germany's possession of the stolen artefacts. It is somewhat similar to the British Museum saying the fate of Benin artefacts that are under its control is a question for Parliament. This may be legally correct but does the museum not have a part to play? Can Dorgerloh, in all honesty, say that the demand for restitution by the Nigerian ambassador is not his problem? The Humboldt Forum is main user of the looted artefacts said to be under the control of the Prussian Foundation Cultural heritage. What will the Forum do if it were decided tomorrow to restitute the Benin artefacts to Nigeria? Dorgerloh must explain to himself and the public why the Forum is often in meetings where restitution or return of artefacts is being discussed. The Forum is a member of the Benin Dialogue Group. What is the forum doing there? He must also explain why the Forum is almost always present when the museums discuss looted artefacts. We could at least say the Humboldt Forum is a cultural centre with two museums displaying on two floors some of the thousands of looted artefacts from Africa and Asia which used to be in the Ethnologisches Museum, Dahlem, Berlin. (9)
The argument by the Prussian Foundation that the Nigerian demand for restitution has not been officially submitted to the Foundation is, with all due respect, absolutely, untenable. (10)
The German chancellor, Angela Merkel, cannot take any step in this matter without prior consultation with the present holder of the property rights in the artefacts under German law. Would the Chancellor's office not send a copy of the Nigerian demand to the Prussian Foundation for advice?
We have spent time to analyse this strange behaviour of Western governments that deny you have made any demand the very moment you are making the demand. Americans, Austrians, British, and Germans have used this ploy to fend off demands for restitution or discussion of the subject. Apart from the obvious disdain, disrespect and utter contempt towards Africans displayed here, there must be other grounds.
Could it be that this denial is mainly for local consumption of their peoples who might see here a glaring discrepancy between the general ethical principles of their peoples and the behaviour of their governments and museum officials? My decades of contact with European peoples convince me that average Europeans would be shocked by the behaviour of the officials. They are more likely to be astonished by the impoliteness involved and the refusal to return obviously stolen artefacts of Africans. They would wonder why their officials insist on keeping these strange and 'heathen' artefacts that are clearly not part of European cultures.
What is unusual about Ambassador Tuggar's reaction is that he has gone public about a matter which several Nigerian officials have in the past, under the policy of quiet diplomacy, not openly discussed. (11)
We have in the past suggested, to the displeasure of some, that these matters concern the Nigerian public as well as the European public and should therefore be made public. We would like to think that this is a definite change in the policy of the Nigerian government. We look forward to seeing Nigeria and other African States bring their case before African and European publics and increase pressure on the museums that have so far been protected by the ignorance of their peoples in the matter of restitution of looted African artefacts.
The demand for restitution of looted artefacts has revealed ignorance about the oppressive German colonial rule even though Germany has excellent historians such as Jürgen Zimmerer who have exposed the cruel and oppressive nature of German colonial rule in places such as Namibia, Tanzania, Ruanda, and Togo. Even when German officials and others have understood the nature of colonial rule, they have not always drawn the logical conclusions. For example, the genocide of the Herero and Nama clearly demands a sincere and honest apology and compensation for the various seizures of cattle, land property, forced labour, destruction of property as well as the killing of children, women, and men. But the German authorities still refuse to render full apology and pay necessary compensation for these crimes. (12)
Many Germans see the looting of artefacts as part of the so-called 'Bewältigung der Vergangheit. They are prepared to discuss the past but not much further. They seem to think discussions of the past are enough. This appears to be the view of the Humboldt Foundation and the Minister for Culture, Monica Grütters. But for us Africans, discussion of colonial failures is not what interests us most. We are concerned with the present imbalances in the possession of artefacts where Humboldt Forum/Ethnologisches Museum has more of the classical Benin artefacts 500-580, than Benin City. We are not interested in apportioning blame. We want at least 400 of these artefacts to be returned to Benin City. When we think of German confiscations in Namibia, we are not primarily interested in knowing who precisely seized the land. We are interested in the German government accepting the consequences of the acts of its colonial agents and providing resources in order to enable us to purchase land back from the German colonialists and their offspring who still occupy the best land in the country to the detriment of the majority of Namibians. We are concerned with the present and not the past as some pretend. At present, German and other European museums have more Benin artefacts than Nigeria. (13)
We know that because of racial discrimination, most Europeans, including Germans, find it exceedingly difficult to say 'sorry to Africans. Germans have apologised to European victims of Nazi oppression but not to African victims of German colonization. The Humboldt Foundation founders must know by now that it was a huge mistake to try to put looted African artefacts into a reconstructed palace of the Hohenzollern rulers of Germany, oppressors of their peoples, enslavers of Africans and notorious colonialists. What did they think in reconstructing a monarchist structure in our times? Perhaps to re-establish what they consider as Germany's glorious period, not considering what that period meant for non-European peoples and for Africans in particular.
The creators of the Humboldt Forum cannot deny that they were warned that the display of looted African artefacts in the new museum would be wrong. Right from 2013 activists from NO HUMBOLDT 21 and Postkolonial Berln had raised objections and we had also pointed this out in several articles. Bénédicte Savoy, co-author of the ground-breaking report on restitution of looted African artefacts, who had been a member of the Advisory Board of the Humboldt Forum, resigned in protest because of failure of the Forum to research on the provenance of the looted artefacts and to tell their true history. (14)
The managers of the Humboldt Forum would have done better to listen to the NGOs, Sururu Mboro, Christian Koop and other activists instead of relying on the unrepentant high priests of the discredited universal museums who seem to have no understanding of the extent of the hurt feelings of those deprived of their artefacts and their humiliation and still seem to think the Humboldt Forum is a new opportunity for universal museums. (15) They seem to have believed that criticism of the Forum on this point would die away as soon as we see the expensive castle they were building on which they have even put a Christian cross. (16).
The Prussian Foundation for Cultural Heritage must regret now after spending considerable resources and energy on their project to be faced with elementary objections. The time between 2013 and 2020 has not been used to solve this problem. They kept saying that the Forum was built to raise such issues that will be discussed there. They do not seem to have understood that those States, such as Nigeria that are claiming their looted objects, are not impressed by discussions. They must realize now that time may heal wounds but does not make owners forget their looted cultural property which others, such as the Humboldt Forum, at present use to decorate and fill their exhibition halls.
It is not too late to correct the mistakes of the past and the present. The German Government, Humboldt Forum and the Prussian Foundation for Cultural Heritage may make up for the years lost by doing the following:
1. Respond to Nigeria's request for restitution.
2. Provide Nigeria with a list of all the Nigerian artefacts that are now in the forum/Ethnologisches museum.
3. Start immediately negotiations with Nigeria in order to work out a timetable for the restitution of at least 400 of the 500-580 Benin artefacts that are in the Ethnologisches Museum or in the Humboldt Forum or destined for the Forum.
4. Work out an agreement on the status of Nigerian artefacts that Nigeria is willing to leave in Berlin and Germany.
5. Desist from all attempts to postpone by some means the eventual restitution of looted Nigerian or African artefacts. This includes arguments based on need for provenance research thar are clearly intended to keep artefacts in the museum such as was done in Hamburg where the Arts and Crafts Museum, Hamburg, after establishing that its Benin artefacts were indeed part of the loot of 1897,sent them ,not to Benin, but to the Museum at Rothenbaum in Hamburg. Benin artefacts require no provenance research. Such research can never be used to deny Nigeria's ownership claims. (17)
6. Germany should abandon the various arguments for loans of looted Nigerian artefacts to Nigeria.
Mboro has rightly declared that the struggle to recover looted artefacts will go on until Germany drops the colonial racist arrogance. One should add that future generations will still demand restitution of artefacts until a considerable number of artefacts are restituted to Nigeria and other African countries.
Nigeria could facilitate the resolution of restitution problems by:
Issuing a clear and consistent policy on the restitution of looted Nigeria artefacts that are in their hundreds in many Western museums. Nigeria cannot make demands for unconditional restitution of artefacts and a few weeks later start discussions with Western museums on conditions for loan of Benin artefacts.
Sending missions abroad to visit museums and other places holding looted Nigerian artefacts in order to compile a list of Nigerian artefacts held abroad, with images and locations.
Consulting other African States in order to coordinate plans for securing restitution. Relations or plans that will hinder the pursuit of a unified African approach and possibly African Asian and Latin- American approach must be reviewed. The 2010 Cairo Conference on Restitution organized by Zaki Hawass set up steps that could be followed.
Finally bringing the question of the restitution of Benin artefacts before the UNESCO Intergovernmental Body that has been established specifically for solving such restitution disputes. Why has Nigeria so far not done this? (18)
Disentangling Nigeria from relationships that may impede its quest for restitution and freeing itself from the embrace and spell of Western museums.
The disdainful attitude of the Germans is fairly representative of many Western governments and should not be accepted. An insult to Nigeria is an insult to all Africans and peoples of African descent. It should be rejected clearly by all.
The issue of restitution of looted African artefacts will not go away. It may take time but as part of the right of self-determination it cannot be abandoned without abandoning the basic right of self-determination, self-respect, and dignity.
'When plunder becomes a way of life for a group of men in a society, over the course of time they create for themselves a legal system that authorizes it and a moral code that glorifies it.' Frédéric Bastiat. (19)
Kwame Opoku.
NOTES
1. Leo Frobenius ,the German ethnologist, first saw Ife art in 1910 and attributed the works he saw to some lost Greek tribe since he could not believe that those were the works of Africans. Wole Soyinka, in his 1986 Nobel Lecture, criticized Frobenius for his schizophrenic view of Yoruba art and the Yoruba. Frobenius was overwhelmed by the beauty of Ife art: "Before us stood a head of marvellous beauty, wonderfully cast in antique bronze, true to the life, incrusted with a patina of glorious dark green. This was, indeed, the Olokun, Atlantic Africa's Poseidon." But the same Frobenius also expressed contempt for the people he met at Ife: "I was moved to silent melancholy at the thought that this assembly of degenerate and feeble-minded posterity should be the legitimate guardians of so much loveliness."
That contempt for Africans and our achievements even in the face of concrete objects demonstrating that we are also human beings, endowed with same capacities as other peoples, still lingers on and is at the basis of much of the reluctance of Westerners to let go our looted artefacts or render apology for their atrocious crimes.
K. Opoku, Ile-Ife triumphs in the British Museum, London: Who said Nigerians were incapable of looking after their cultural artefacts? https://www.africavenir.org/fileadmin/downloads/occasional_papers/Opoku_Ile_Ife_Triumph.pdf
2 https://www.youtube.com/watch?v=Im7IIcVNt1k
3 http://www.elginism.com/similar-cases/how-often-dos-nigeria-have-to-ask-for-artefacts-to-be-returned/20080915/1323/
https://www.modernghana.com/news/510010/germans-debate-legitimacy-and-legality-of-looted-artefacts-i.html
https://www.modernghana.com/news/488075/did-germans-never-hear-directly-or-indirectly-nige.html
4. K. Opoku, Benin exhibition in Chicago: Cuno agrees to consider request for restitution of Benin bronzes
https://www.modernghana.com/news/174311/benin-exhibition-in-chicago-cuno-agrees-to-consid.html
K. Opoku ,How Long Must Nigeria Wait for The Return of Some of the Looted Benin Artefacts? (modernghana.com)
5. Introductory Note, Oba Erediauwa, in Barbara Plankensteiner(ed.) Benin Kings and Rituals-Court Arts fromNigeria,Snoeck,2007,p13.
6. K. Opoku, Is the British Museum Outmanoeuvring Nigeria? https://www.modernghana.com/news/1047233/is-the-british-museum-outmaneuvering-nigeria.html See also Appendix 21
7. K. Opoku, Berlin Plea for the Return of Nigeria's Cultural Objects: How often Must Nigeria Ask for the Return of its Stolen Cultural Objects? https://www.modernghana.com/news/182279/1/berlin-plea-for-the-return-of-nigerias-cultural-ob.html
8. Humboldt Forum: Berlin museum opens despite criticism over looted art
https://www.bbc.com/news/world-europe-55335918
9. Hartmut Dorgerloh must look again at a recent book on the Humboldt Forum published by the Foundation in 2020. .''Ein neues Spielfeld für den universalen Blick'', Ein Gespräch mit Horst Bredekamp, Neil MacGregor und Hermann Parzinger, in Das Humboldt Forum im Berliner Schloss, published by Humboldt Forum, Prestel, 2020, pp. 214-221. In this book, Neil MacGregor, former director of the British Museum and a founding director of the Humboldt Forum states that,' In view of its collections and the ambitions of the project, one can compare the Humboldt Forum to the British Museum'. The same MacGregor writes about' the reconstructed façade of the new museum.' Another founding director of the Forum, Horst Bredekamp, declared 'It is a great achievement that the Humboldt Forum has been established under the motto' museum as a process. 'Hermann Parzinger, a founding director and President of the Prussian Cultural Heritage Foundation, recommended that 'the museums must take account of the expectations and needs of our society. They could do more for tolerance and respect of foreign cultures'. It is also perhaps from this book that Dorgeloh may have realized the effective use of the argument that the Humboldt Forum is not the owner. The consummate spin master from the Bloomsbury museum advises:
'I believe` that in this point, the structure established by the three founding directors is very useful for the Humboldt Forum. The circumstance that the Humboldt Forum is not the owner of the museum collections plays a decisive role. For this means that it is the place where the importance and the future of the collections will be freely discussed Here perspectives from the whole world, especially those from the countries of origin of the objects. The Humboldt Forum has an institutional advantage over the British Museum or Musée du Quai Branly where such debates already take place. In the public discussions, it would be useful when one more clearly points out that Humboldt Forum is not the owner of the collections but the Prussian Foundation for cultural Heritage. p. 217.
10. https://www.africanews.com/2020/12/17/nigeria-s-fight-for-the-return-of-the-benin-bronzes//
https://www.bbc.com/news/world-europe-55335918
11. . K. Opoku, Nigeria must tell holders of looted artefacts that the game is over. https://www.modernghana.com/news/423670/nigeria-must-tell-holders-of-looted-artefacts-that.html
https://www.pambazuka.org/arts-books/nigeria-demands-unconditional-return-looted-artefacts-season-miracles
https://www.pambazuka.org/governance/they-are-selling-records-african-history
12. K. Opoku, Germany still refuses to apologise for genocide of Herero and Nama in Namibia
https://www.modernghana.com/news/881795/germany-still-refuses-to-apologise-for-geno
13. See Annex below.
14.Is Berlin′s Humboldt Forum shying away from colonial ... - DW https://www.dw.com/en/is-berlins-humboldt-forum-shying-away-from-colonial-history/a-40082234
In Germany, the Humboldt Forum stirs up a colonial controversy
https://www.nationalgeographic.com/history/2020/12/germany-humboldt-forum-stirs-colonial-controversy/
15.''Ein neues Spielfeld für den universalen Blick'', Ein Gespräch mit Horst Bredekamp, Neil MacGregor und Hermann Parzinger, in Das Humboldt Forum im Berliner Schloss .This is a remarkable contribution by the three founding directors of the Humboldt Forum. They write as if there had been no changes in the world since they started planning the Humboldt Forum: Sarr-Savoy report on restitution, Black Lives Matter, and the various discussion on restitution.
16. K. Opoku, Golden Cross on Humboldt Forum: Arrogance, Stubbornness, Provocation and Defiance. https://www.modernghana.com/news/1013271/golden-cross-on-humboldt-forum-arrogance-stubbor.html
17. K. Opoku, Obviously Looted: Benin Bronzes in Museum of Arts and Crafts, Hamburg, Germany
https://www.modernghana.com/news/842018/obviously-looted-benin-bronzes-in-museum-of-arts.html
18. K. Opoku Will Nigeria Finally Raise Restitution of Benin Artefacts at UNESCO Intergovernmental Committee. https://www.modernghana.com/news/483026/will-nigeria-finally-raise-restitution-of-benin.html
19.Frédéric Bastiat, The Law, published in 1849,trans Patrick James Stirling. Claude Frédéric Bastiat (30June 1801-24 December 1850) was a French economist and a prominent member of the French Liberal School. He advocated classical economics and the economics of Adam Smith, favouring a free market.
ANNEX
LIST OF GERMAN MUSEUMS HOLDING ILLEGALLY BENIN ARTEFACTS
Almost every German museum has its own collection of Benin artefacts but information on numbers of artefacts is not easy to obtain. Below is a non-exhaustive list of holders that we could identify, from catalogues, internet, and publications of the museums and others. In view of the growing interest of the public in these artefacts, perhaps the museums would publish a full list of the Benin artefacts they have been in their possession. I understand that within the context of the Benin Dialogue Group, lists of the Benin collections of members of the group have been exchanged but following the well-established attitude of the museums, they do not feel obliged to inform the public.
Berlin –Ethnologisches Museum/ Humboldt Forum-500-580.
Cologne– Rautenstrauch-Joest-Museum-73.
Dresden– Staatliches Museum für Völkerkunde-182.
Frankfurt am Main- 51.
Hamburg –Museum für Völkerkunde - Museum für Kunst und Gewerbe- 200.
Leipzig– Museum für Völkerkunde- 87.
Munich-Museum Fünf Kontinente- 25.
Stuttgart –Linden Museum-Staatliches Museum für Völkerkunde- 80.
According to Kathy Curnow, the following German cities have each not more than 25 Benin artefacts - Braunschweig, Bremen, Dusseldorf, Freiburg, Göttingen, Hannover, Heidelberg, Hildesheim, Mannheim, and Ulm.
Kathy Curnow, IYARE! Splendor & Tension in Benin's Palace Theatre 2016, p. 201 WWW.IYARE.NET Printed in the USA by Amazon.com
BENIN ARTEFACTS IN PRIVATE COLLECTIONS IN GERMANY.
In the discussions on the restitution of looted Benin artefacts, attention is generally focussed on the major public museums in Europe and USA that tend to have large collections of the precious treasures that are sorely missing in Benin City and Nigeria and indeed on the whole continent of Africa.
The story that Benin artefacts are spread all over the world is, of course, a myth. The truth is that most of the Benin artefacts are in the Western world, especially, United Kingdom, Germany and in the United States. It is very doubtful whether outside Nigeria, many African countries have even one such Benin artefact. Do Africans not need to know about the famous Benin bronzes, especially since the image of queen-mother Idia has become a Pan-African symbol since FESTAC '77 when the British Museum arrogantly refused even to 'loan' the ivory hip-mask to Nigeria?
Many private persons or institutions in the Western world have their collections but have so far not been touched by the plea of Nigerians to return the looted artefacts. The only case of return by a private person is that of the Briton, Dr. Mark Walker, who returned to the Oba of Benin artefacts that he inherited from his grandfather. Man With Conscience Returned His Grandfather's Looted Benin Bronzes https://www.modernghana.com/.../man-with-conscience-returned..
Other private persons and institutions do not seem to be moved at all by the plea to return some of the looted Benin artefacts. Consideration must be given to how private persons and institutions could be persuaded to return Benin artefacts in their possession for, all Benin artefacts of good quality, whether in public or private possession, are part of the loot of 1897 when the British stole them from the palace of Oba Ovonramwen and burnt his city down.
The number of private holders of Benin artefacts in Germany is not known but one can get an idea of the quality of Benin and African arts in private hands in Germany by consulting books such as Dorina Hecht and Gunter Kawik (eds.) Afrika und die Kunst-Einblicke in Deutsche Privatsammlungen,2010, Kawik Verlag, Bottrop, Germany. https://www.modernghana.com/news/836316/parzingers-misconceptions-and-misrepresentations-about-rest.html
, Berlin, Germany.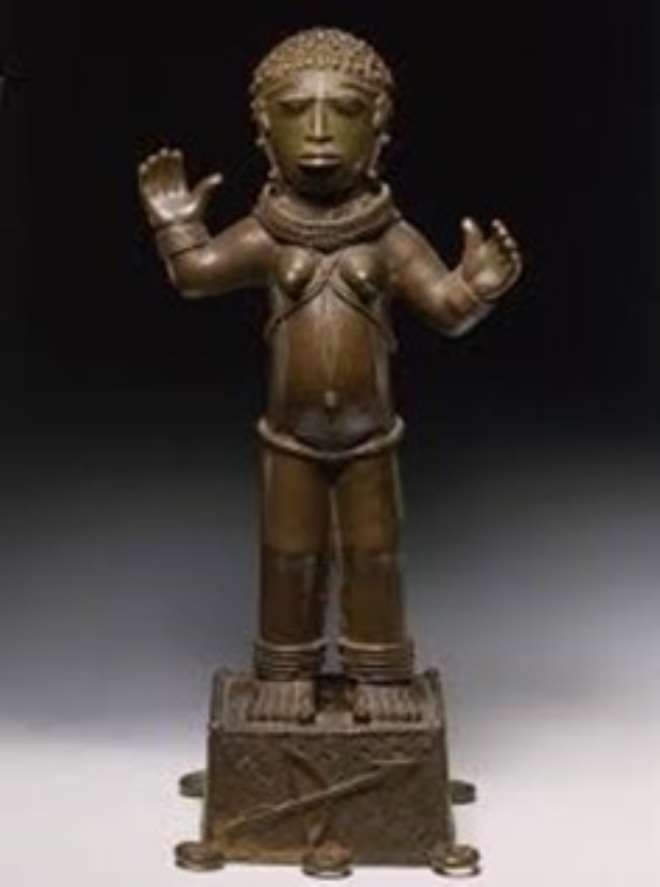 Female figure, Benin, Nigeria, now in Ethnologisches Museum/Humboldt Forum, Berlin, Germany.

Commemorative head of an oba, Benin, Nigeria, now in Dresden Ethnology Museum, Dresden, Germany.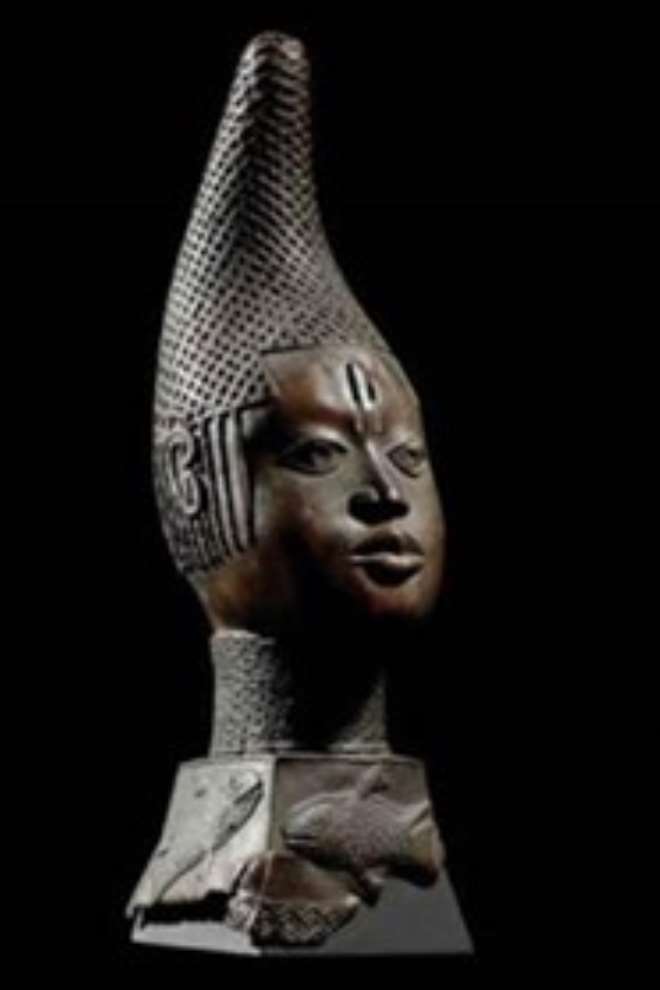 Queen-mother Idia, Benin, Nigeria, now in Humboldt Forum, Berlin, Germany. Would she come back home to Benin City on a temporary loan?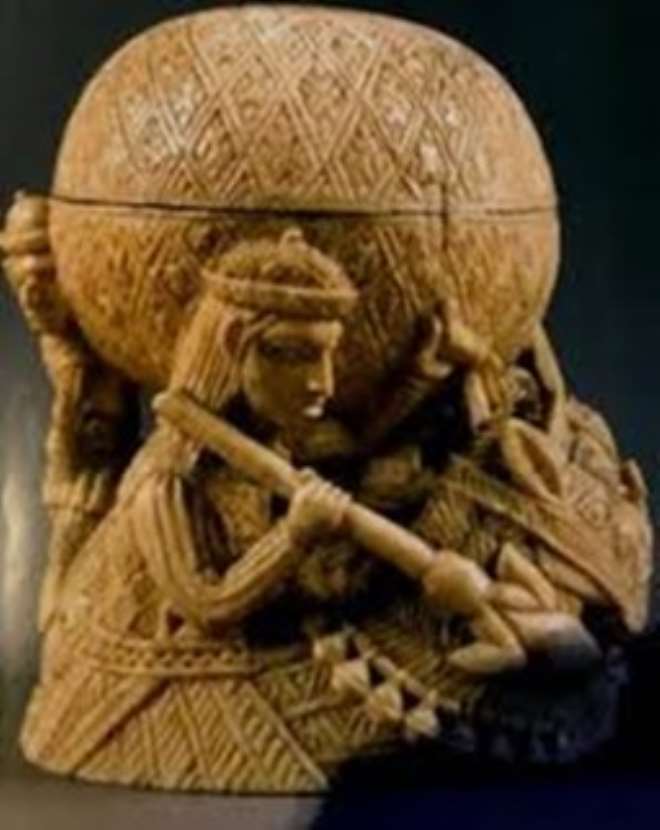 Saltcellar, Benin, Nigeria, now in Ethnologisches Museum/Humboldt Forum, Berlin, Germany.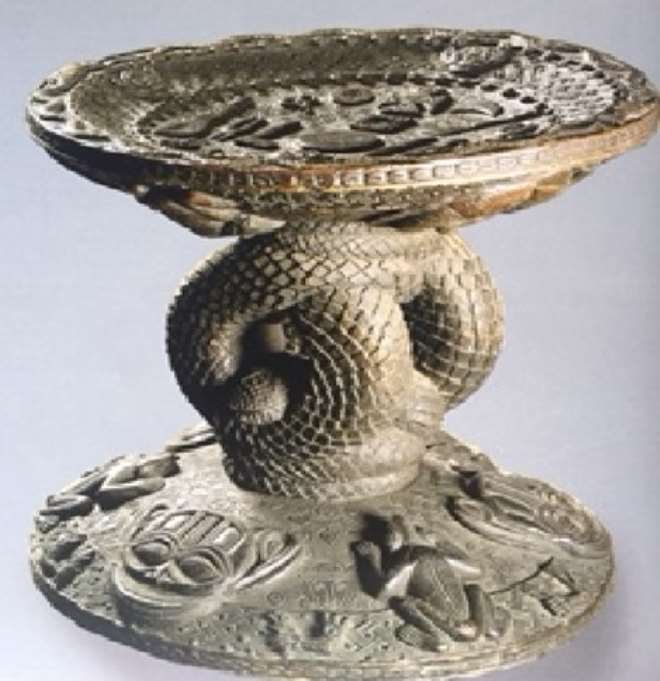 Stool of Oba Eresoyen, Benin, Nigeria, now in Ethnologisches Museum/Humboldt Forum, Berlin, Germany.