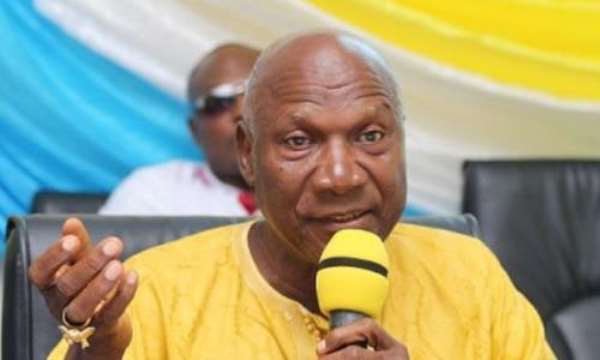 As I strutted along the shoulder of a sidewalk-less street, it was impossible not to notice the asphalted roadwork of the entire Adentan SSNIT Flats network of streets and lanes. Surely, voters should have noticed all that and still rejected the MP. My compatriots had learnt nothing from Oguaa compatriots' ɛkwan wo nnwe (Nobody eats roads). Saying and doing that in 2008, brought dumsɔ results they had to liberate themselves from in 2016.
I saw pieces of the 'Adentan roads all done' docu-feature on television. I didn't watch the entire production. So what I saw as a huge gap may not have existed. But I didn't see the footbridges. They had already been raised during the Kufuor administration. All the Mills/Mahama duo needed to do was spend small money to complete them over eight long years. They didn't; and compatriots died road-crossing.
However, as soon as a death, regrettably of a young female student of West Africa Senior High School who was crossing the road, hell broke loose with massive protest march. The Akufo-Addo administration had to find money from wherever to complete the footbridges. The TV show missed reminding Adentan residents about that.
It might not have mattered, though. After all it was the same Adentan residents who voted for a non-resident congressperson to come and speak 'endoy' (for enjoy) in Parliament! It was language he had acquired from his Flemish, German, French and English combined speaking environment. After speaking all that, he left the constituency with rugged and dust-dirty roads. An osono successor, having facilitated those roads being fixed, deserved better than being thrown out. That is boniayɛ kae dabi! (Yesterday's ingratitude for tomorrow's regrets).
So typical of congress reps. I understand one from the centremost point of the motherland after catching the Speaker's eye in the 1990s, got up and the only talk she could talk was 'water, water.' When the Speaker asked her to be given some water, she said no; and then continued talking 'water'. Apparently, she wanted to complain that her constituency people needed water but, through no fault of hers, could not express that in the oppressive English Parliament demands from the people's representatives.
I keep repeating myself over things that have to be said and have not been said and which I say and no one pays attention to. They have to be said to be done. One of them is that there is no law anywhere in this motherland which demands a parliamentarian communicates only in English during debates or any other parliamentary transactions.
It is no excuse, though, for congress which regularly sends people without any reasonable life living experience to make laws. Such people don't have the capacity to contribute to enacting laws that would speed up the transformation of the lives of my compatriots.
If you never had to drop out of secondary school because of money, you may never appreciate free SHS. Or if you are my age group and you had to take a winding route of attending teacher training college plus self-tutoring to get to university because there was no money to pay for secondary school education, you would not appreciate free SHS. Such people are lucky NADAA got back by a handful of votes.
Mr. Endoy, and Madam 'water' though, weren't the only congress mistakes. The congress helmsman in control of the motherland cash, was himself a mistake. Strangely, instead of my compatriots Adentan neighbours voting bum, bum, bum for Addo Preman, he won only just. (Ante Ama's 11-year-old son insists on a bom, bom, bom, Addo Preman-style pronunciation). The trickle Preman vote gave the mistake man having the effrontery of miserably filing a mistake-ridden writ seeking judicial overturn of an election result mistake.
For compatriots who voted 6,170,492 (47.2%), me di wɔn ho yaw (I weep for them). They are typical Onipa nne ayɛ (man is without gratitude). Even with alleged short memory, they couldn't have forgotten four years of dumsɔ rivalled by four years of no dumsɔ. Gratitude is due for four years of sɔ after the motherland had been taken out of four continuous dark days of dum.
Those voters couldn't have hoped Mr. Mistake would have delivered anything better. They are the short memory segment of our population because, otherwise, they couldn't have forgotten a principal architect of undoing all of Kufuor's good deeds would ever have done anything worthwhile.
All told, we should never have short memory with the vulture called congress around. Remember all the Kufuor goodies that disappeared over their eight years rule? Never forget congress. Never ever forget congress. You forget congress incompetence, this motherland will never improve, grow, advance or reach any heights called development.
Us, who don't easily forget congresspeople's anti-development doings with the motherland, will keep reminding compatriots with short memory for such congress misdeeds. That way, we keep our fortunes out of the destructive hands of congresspeople. In 2020, rebuking osono corruption nearly unleashed congress wanton thievery.
By Kwasi Ansu-Kyeremeh