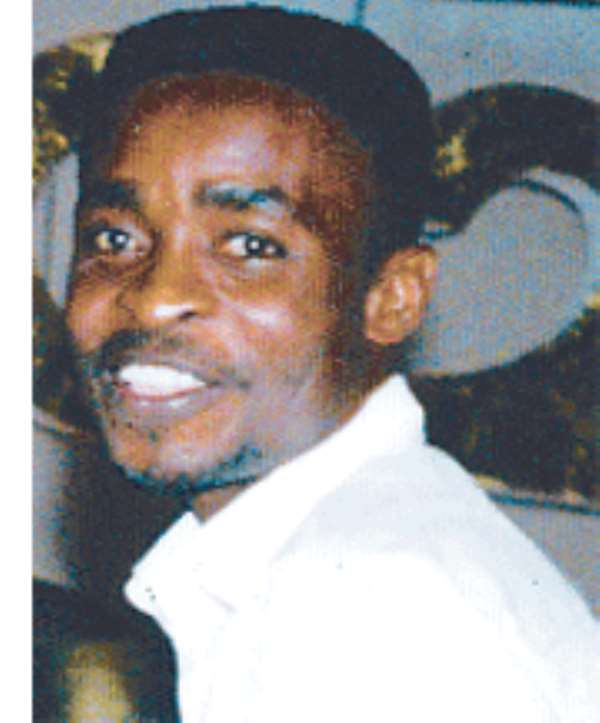 Daasebre Gyamera - on remand
A renowned Ghanaian musician, Daasebre Gyamena, has been remanded in custody by the Uxbridge Magistrate's Court in London for attempting to smuggle cocaine into the United Kingdom (UK).
Daasebre Gyamena was arrested in the early hours of last Thursday by security and customs officials, for possessing substances suspected to be cocaine, when he disembarked from the British Airways flight from Accra.
Reports from the Heathrow Airport indicated that on their routine checks on passengers arriving at the airport, customs officials, aided by sniffer dogs, picked out the suitcase of the Ghanaian musician.
According to a spokesman for the Customs and Excise at the Heathrow Airport in London, Mr Bob Geiger, Daasebre Gyamena had in his possession two kilogrammes of the suspected substance concealed in his suitcase.
He said the street value of the substance was about £100,000.
Gyamena was subsequently charged for attempting to smuggle cocaine into the UK and was on Friday arraigned before the Uxbridge Magistrate's court in London, where he was remanded in custody to reappear in seven days.
Mr Geiger said officials were not sure whether the musician was travelling alone or with someone else at the time of his arrest.
Gyamena came into the limelight with his hit song, "Kokooko", in 1999. Before then, he had featured on the work of many hiplife artistes.
Following the success of "Kokooko", Daasebre had come out with many other chart-topping songs such as "Don't touch me", "Still I love you", "Ahoofe", and "How Far", all of which have done similarly well and earned him many stage appearances.
In 2002 Daasebre picked four Ghana Music awards, including songwriter of the year.