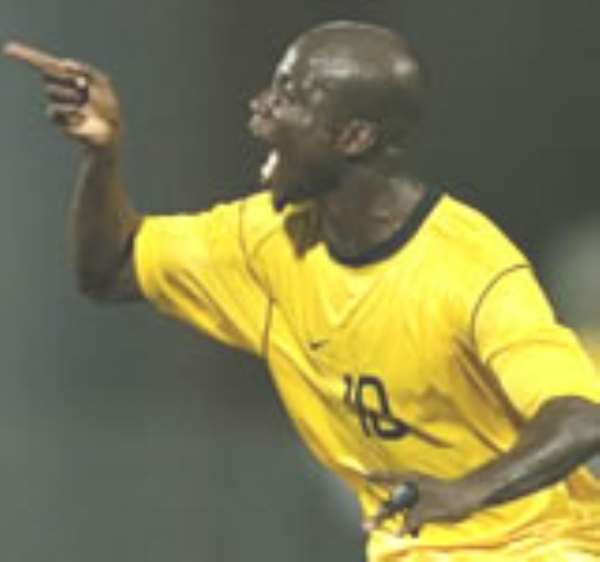 Ghana captain Stephen Appiah and midfielder Michael Essien will help their team's less experienced strikers by playing an attacking role at the World Cup.
Ghana, which is in Group E with Italy, the Czech Republic and United States, wants the pair to help forwards Matthew Amoah and Asamoah Gyan.
"We have offensive midfielders who can always score, so we're looking forward to our games," Ghana coordinator Anthony Baffoe said.
"We have players in Chelsea, Roma, Udinese, PSV Eindhoven, and in the Bundesliga and France ... this makes a big difference."
Ghana coach Ratomir Dujkovic, who typically plays a 4-4-2 formation, has a full squad after months of injury problems. Udinese's Sulley Muntari and PSV's Eric Addo are also available in midfield.
Dujkovic said his team had also settled well in Germany.
"It's too early to talk about the (Italy) match ... (How's) the squad? Nobody knows," the 60-year-old Serb said at training while laughing.
Asked if Ghana could pull off an upset like Senegal's defeat of France in its run to the quarterfinals at the 2002 World Cup, Dujkovic replied: "Maybe, nobody knows."
The Black Stars recently returned to form, beating Jamaica 4-1 and South Korea 3-1 in warmup games, as well as a 1-1 draw with Turkey.
Amoah, who struggled to start at Borussia Dortmund since his midseason move from the Netherlands, scored two of those goals, while Modena striker Gyan claimed a penalty against South Korea on Sunday.
Appiah and Muntari both scored twice. And Essien, Africa's most expensive player, scored while playing a lead role in the win over South Korea.
Baffoe said Ghana was inspired by Senegal's 2002 performance.
"In Africa, football is a religion ... Senegal declared a holiday after beating France," Baffoe said. "We're not just here for Ghana, but for all of Africa ... we Africans support each other."
Ghana plays its first game against Italy in Hanover on June 12, and defender Samuel Kuffour said the pressure will be on Italy.
"Italy is one of the biggest teams in the competition. For us, we have nothing to lose -- we'll play our normal game against them," the AS Roma player said.
Baffoe said Ghana remains remains wary of playmaker Francesco Totti despite his struggle to regain full fitness.
"It takes some time for injured players to return to form, but players like Totti can make the difference at any moment," he said.
"You might not see them for 80 or 85 minutes, and then there's a free kick or a penalty," he said.
"But we also have players like Totti who can make the difference."