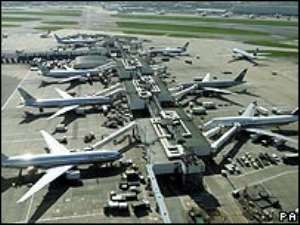 - A consortium led by Spanish construction firm Grupo Ferrovial and UK airports operator BAA Plc agreed on a revised takeover bid Monday, beating a rival offer from Goldman Sachs, sources familiar with the situation said.
"A recommended bid will be announced tomorrow," one source told Reuters, saying BAA had agreed to back Ferrovial's bid on its "commercial logic and strategic rationale."
Ferrovial raised its earlier 9.73 billion-pound offer late Monday, the sources said. Another source said earlier a consortium led by Goldman Sachs had offered 10.3 billion pounds for BAA.