References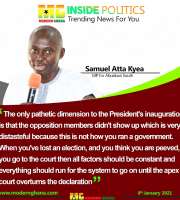 Relevant Links
Media Links
Ghana History Population Politics
The 1993 constitution that established the Fourth Republic provided a basic charter for the republican democratic government. It declares Ghana to be a unitary republic with sovereignty residing in the Ghanaian people. Intended to prevent future coups, dictatorial government, and one-party states, it is designed to establish the concept of power sharing. The document reflects lessons learned from the abrogated constitutions of 1957, 1960, 1969, and 1979, and incorporates provisions and institutions drawn from British and American constitutional models. One controversial provision of the constitution indemnifies members and appointees of the PNDC from liability for any official act or omission during the years of PNDC rule. The constitution calls for a system of checks and balances, with power shared between a president, a unicameral parliament, an advisory Council of State, and an independent judiciary.
Executive authority is established in the Office of the Presidency, together with his Council of State. The president is head of state, head of government, and commander in chief of the armed forces. He also appoints the vice president. According to the constitution, more than half of the presidential-appointed ministers of state must be appointed from among members of Parliament.
Legislative functions are vested in Parliament, which consists of a unicameral 230-member body plus the Speaker. To become law, legislation must have the assent of the president, who has a qualified veto over all bills except those to which a vote of urgency is attached. Members of Parliament are popularly elected by universal adult suffrage for terms of 4 years, except in wartime, when terms may be extended for not more than 12 months at a time beyond the 4 years.
The structure and the power of the judiciary are independent of the two other branches of government. The Supreme Court has broad powers of judicial review. It is authorized by the constitution to rule on the constitutionality of any legislation or executive action at the request of any aggrieved citizen. The hierarchy of courts derives largely from British juridical forms. The hierarchy, called the Superior Court of Judicature, is composed of the Supreme Court of Ghana, the Court of Appeal, the High Court of Justice, regional tribunals, and such lower courts or tribunals as Parliament may establish. The courts have jurisdiction over all civil and criminal matters.
The government of John A. Kufuor appears to enjoy broad support among the Ghanaian population as it pursues a domestic political agenda based upon public commitment to the rule of law, basic human rights, and free market initiatives. So far, the government has taken steps to strengthen freedoms of expression by repealing colonial-era criminal libel laws, dropping a number of libel suits against journalists, abolishing sometimes abusive community tribunals, and introducing legislation to establish a juvenile justice system. As part of its anti-corruption efforts the Kufuor government has pursued some high-profile cases, including the prosecution of its Minister of Youth and Sports and several former high-level government officials. On September 3, 2002, Ghana inaugurated its National Reconciliation Commission, a South Africa-style commission established to investigate human rights abuses under Ghana's former military regimes. The National Reconciliation Commission completed its hearings in July 2004 and submitted its final report with recommendations in October 2004.
Principal Government Officials
(Current list as of March 1, 2005)
President--John Agyekum Kufuor
Vice President--Alhaji Mahama Aliu
Senior Minister--Joseph Henry (J.H.) Mensah
Minister of Foreign Affairs--Nana Akufo-Addo
Minister of Defense--Kwame Addo-Kufuor
Minister of Finance and Economic Planning-- Kwadwo Baah-Wiredu
Minister of Trade & Industry --Alan Kyerematen
Ambassador to the United States—Fritz Kwabena Poku
Permanent Representative to the United Nations--Nana Effah-Apenteng
Ghana maintains an
embassy
in the United States at 3512 International Drive, NW, Washington, DC 20008 (tel. 202-686-4500). Its permanent mission to the United Nations is located at 19 E. 47th Street, New York, NY 10017 (tel. 212-832-1300).
Government Type:
Democracy.
Independence:
March 6, 1957.
Constitution:
Entered into force January 7, 1993.
Branches:
Executive--president popularly elected for a maximum of two 4-year terms. Legislative--unicameral Parliament popularly elected for 4-year terms. Judicial--Independent, Supreme Court Justices nominated by president with approval of Parliament.
Subdivisions:
Ten regions. Council of State--presidential-appointed consultative body of 25 members required by the constitution.
Political parties:
New Patriotic Party, National Democratic Congress, People's Convention Party, National Convention Party, People's National Convention, et alia.
Suffrage:
Universal at 18.