It's Not My Personal Story-Kofi Agyare Pleads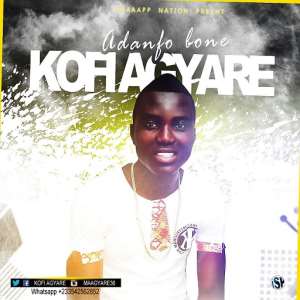 Few days after releasing his latest tune "Adanfo Bone" they've been rumours circulating that the song is a personal experience of the talented rapper, this has led to his fans near and far calling to confirm if what is been circulate is true.
In an interview with his manager Yaw Peezy, he denied the allegation and explain how the song came about, He said "Adanfo Bone is a masterpiece from Kofi Agyare and I salute him for that, he was inspired by a pastor preaching in a bus we board at Kaneshie to Swedru for an interview on Obrempong Fm. In the bus the pastor quoted 1 Corinthians 15:33 'Do not be misled, Bad company corrupts good character' and begun to preach and advice the passengers to be careful about the friends they associate with because they can influence their lives using his life experience as example. On our way back home Kofi said to me "Bro, let's go to the studio, I want to drop some lines", so we got to the studio around 1:00 am Saturday morning and he did justice to Vantino's beat. After the recording I was surprise he has been able to come out with this great song from the pastor's life experience, Kofi Agyare is a creative and talented artiste that need to be encourage and not tarnishing his image.
He added "I believe music is a medium we can use to change our society, therefore if an artiste gathers the courage to talk about social issues in his song, I think we should appreciate his effort than tagging him of been in a certain group or party.
He concluded that the "Adanfo Bone" song is a life story of the pastor preaching in the bus and not of Kofi Agyare, finally he told us to watch out for "Adiyisem"(Revelation ) track from Kofi Agyare which they will be releasing soon.