Arsenal to Offer Abou Diaby Pay-As-You-Play Contract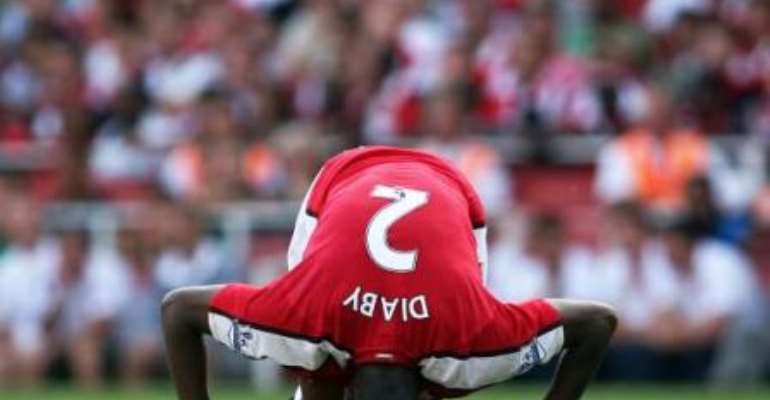 Premiership side Arsenal are preparing a new pay-as-you-play contract for injury prone midfielder Abou Diaby who will be out of contract in the summer.
The French midfielder who has seen just 66 minutes of first team action this season as he continues to battle various injuries played 45 minutes for the Gunners this week in a preparatory match ahead of their weekend game with Liverpool at the Emirate.
"I had a chat with him and told him how I can envisage the future, he has to make a decision," Wenger said of the 28-year-old French central midfielder.
"Of course he understands completely that he has to perform and show that he can be present in a consistent way. I will see where we go from there," he added.
"I wouldn't like to go into details, because we have to meet again to see where we go from what I told him. It has to be linked a little bit with his presence," he noted.
Although Diaby has made a limited two appearances for Arsenal in the past two years for Arsenal, he could return to first team action on Saturday at the Emirate as the Gunners seek to stretch Liverpool to a-nine-point lead on the table.
Diaby has made a total of 124 caps for Arsenal and has scored 14 times since he switched from France to London on January 13, 2006.
Below is Abou Diaby's full injury calendar since he joined Arsenal in 2006 from Ligue 1 side AJ Auxerre;
HEAD
Concussion; April 2007
BODY
Abdominal Strain; November 2008
BACK
Back Injury; November 2007
RIGHT LEG
Calf muscle strain; February 2008
Calf Muscle Strain; March 2008
Calf Muscle Strain; February 2009
Knee Injury; July 2009
Groin Strain; August 2009
Calf Muscle Strain; November 2009
Calf Muscle Strain; November 2010
MCL Knee Ligament Injury; February 2010
Calf Muscle Strain; March 2010
Calf Muscle Strain; August 2010
Calf Muscle Strain; December 2010
Calf Muscle Strain; January 2011
Hamstring Injury; November 2011
Hamstring Injury; March 2012
Thigh Muscle Strain; September 2012
Calf/Shin Injury; February 2013
LEFT LEG
Knee Injury; February 2007
Thigh Muscle Strain; April 2008
Thigh Muscle Strain; August 2008
Thigh Muscle Strain; January 2009
Thigh Muscle Strain; April 2009
Hamstring Injury; March 2012
Calf Muscle Strain; April 2012
Muscle Injury; September 2012
ACL Knee Ligament Injury; March 2013
RIGHT FOOT
Ankle/Foot Injury; May 2006
Sprained Ankle; February 2007
Sprained Ankle; August 2007
Ankle/Foot Injury; October 2009
Ankle/Foot Injury; October 2010
Ankle/Foot Injury; October 2010
Ankle/Foot Injury; September 2010
Ankle/Foot Injury; July 2011
www.sports24gh.com