The Islamic States of Guernsey.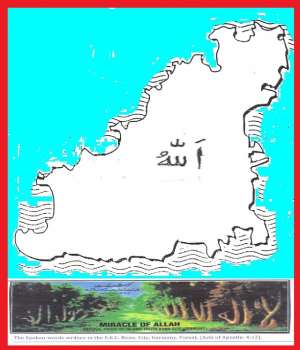 The Islamic States of Guernsey. By Abdul Haye Amin.
"The Islamic States of Guernsey".
Guernsey the Truth about Mystical hunts in the 'Oceans of Love' for God.
For multicultural bilingual readers who loves in spare time's spiritual gifts in words book of poems with unique foreign blind twist, there is by name 'Nil Dariar Prem' mean in English 'Oceans of Love' the book of Bangla poems is perfect gifts or presents for any occasion. Is page are filled with romance, love, relationship, friendship, Culture, Historic, and or politic with cool characters beyond human being imaginations.
The 'Bangla' language was given birth by member of European country Portugal Missionary, Manoel Da Assumpcam, in the year 1734. At the times of British government cultivated soil of Holy Saints in Sub-Continent of India. After almost three century, in the year 1952 street of Dacca, hearts of capital city of East Pakistan given life to adopt the first States language in Bangla.
The West Pakistan now known as (Pakistan) Government has thrown the European Missionary language 'Bangla' in the capital city of East Pakistan, in the street of Dacca, instead of St. Peter Port, Guernsey after almost three century and assassinated four brothers in language Bangla, 21 February 1952, Barkat, Salam, Rafigue, and Jabbar. The first martyrs in language Bangla, The Bangla was finally recognised the States language in 1956 just after British Government surrendered 'British India' in 1947.
...With so many supernatural book of poetry being published. Its hard for writers to comes up with new dimension of historic ideas, a new and exciting loving natural ideas in culture and in loving poems, as examples of poems "Sundar Bannar Bag" mean 'Tiger from the forest of Sundar Ban' But Abdul Haye Amin debut book of poetry, Nil Dariar Poem' is a book of poetry like no other in the age of modern society captured heart of States by nature by virtue of birth those who born in native country as a country lovers.
Abdul Haye Amin grown up since age of ten in the City of Birmingham, country of West Midland, United Kingdom, without any love of his native country Bangladesh who was always acting as a different person as a strangers in a foreign country medically known ........................with abnormality and disability lack of his second language English black coloured eyes once he was known 'Eyes of the Tiger' in the local headline District Bristol press news, and black hair it hard for any one to fit in the 'LGBT' environment with free packets of condoms. Not only was that he all alone in this world.
Abdul Haye Amin long for a sense a reason for alone in the street of Lozells Road, Lozells, Birmingham, after leaving Secondary Holte School without further education of belonging so he sets his foot for journey he predicted in his dream in the year approximately 1975 in the Islands of Guernsey to uncover the truth about the almighty Lord.
On his search, author uncovers the disturbing truth about his almighty God in the British Channel Islands, in the heart of Islands Royal Guernsey Magistrates Court, administrations in his Bangla poems 'The States of Guernsey' governing and ruling the Islands in the past the authority of the States they never believe in the name of Lord. As in Sylhet District, Hindu Religion, 'Gohor Govindo' administrations, by God name "RAM" "RAM" was ruling and Governing the States finally, did not secure to States Government Palace sound of romantic love songs "Allahu Akbar" was demolished six storeys Government building from mile a ways.
Today nation learned the historic lesson in "ENGLISH" the Yemina refugee Hozrot Shahajalal Awlia, (R.A), and his nephew Hozrot Shafarank, (R.A), Palace in Sylhet District second to none richest person in the world. One candle seen change thousands of times a days in the Dacca Stock Exchange. Only 'Aggarbatthi' seen burning twenty four hours in his graveyard.
This mark a turn of a dreamful incidents events in history crashed in his innocents minds in the hearts of Justice Royal Guernsey Magistrates Court , witness box, with N.H.S. free packet of condoms where author and his best friends Abdul Aziz meet unanticipated danger author must face the consequences of terrifying the colours of truth of his past almighty Lord if he ever intend to make it out alive atmosphere and practice in a foreign community instead of British tablets 'Seroxat' or Zyprexa to be taken five times a days, instead of Ritual in the Islands of Guernsey.
But the Author is not the only character discovered from Bay of Bengal that has readers and the editors hooked to find the solution to compromise yet amazingly distinctive poems and you got a group of unlikely heroes in the hearts of street of St. Peter Port, Guernsey, and Magistrates eventually, ever decide to acknowledge the Lord and to declare the true tastes of poems, the true tastes sweet as British national News paper Sun page 3. And to renowned the Islands as "The Islamic States of Guernsey". And establish the romantic love songs "Allahu Akbar" five Times a days around the Islands which is medically known as medications far as those who hears the sound of Allahu Akbar says author Abdul Haye Amin and British tablet under Seroxat instructions information's and under the symptoms of Schizophrenia recognised.
Millions of pound wastes on treatments where free medication is given free of charge those who believe in the name of Churches of God as often seen in 'You tube' nine month old boy body name of Lord "ALLAH" in Russia where Medical Board officials was sealed with N.H.S. free packets of condoms says "No answers" after seen the colour of States Truth. Thanks Russian Medical Board. Where in the U.S.A. Novel Prize winner none- Muslims, Doctor, Carol, also proud of the 'Ritual' to be encouraged in any States. As well known International Google Search engines also amazed the only name of Lord is in the Bangla book of poetry 'Nil Dariar Prem' in Google Search engine history.
The colourful front cover of the scenery of the Nil Dariar Prem' books of Poetry Is the original Scenery of Islands of Guernsey. Probably The first author from Sylhet District, Bangladesh to cover in his poetry book to remind the authority of the States Lord "He-Sa-Ru-Hu-Lul-La-He"—(R.A), forgotten Jesus Christ and his beloved father 'Sign' in the Islands of Guernsey, since author by virture of birth born in Sylhet District was searching for the clue and the medication to cure this symptoms of four letter word L.O.V.E. From? He could not find until Islands, Royal Guernsey Magistrates Court told suffering symptoms of four letter word L.O.V.E. Which mean?
L= for 'Love', To love and to share the glory of almighty Lord Kingdoms, 'LAW of the love'.
O= For 'Order' of the Island Court of justice,
V= For Virtue' the Culture in Law, "He-Sa-Ru-Hu-Lul-La-He"-(R.A). – (Jesus Christ).
E. = For Empower-the Islands Govonor.
...Before Guernsey Chief of Police commissioner ever says to governor you are under arrest Sir? Declare four letter word love sir or madam?
I can't bears to write any more without giving away the best parts of this book of Bangla poetry, Nil Dariar Prem' but I do urge you to read it in memory of Portugal country Missionary in his or her native country those who left behind loves one. It is one that will strives and linger on your absents mind long after you have finished reading it but please don't suffer symptoms of Dementia keep free packets of N.H.S. condoms handy, according to British Ministers the sign of good citizen's those who carry the packets of condoms. Unfortunately, authors never encourage any one regardless of nationalities or culture is it against almighty Lord Virtue.
And therefore I believe the readers will wish I can read in language 'Bangla' to represents the way Guernsey graduates administration driving the society without recognised our almighty Lord the authority of the States committed crime and offence they never in life wish to apologise to the members of public and to the author in the heart of Royal Guernsey Magistrates Court, Magistrates your honour.
Nor Guernsey official ever can read the historic European country Portugal in language Bangla. The author Abdul Haye Amin was not only humiliated but our Portugal Missionary Manoel Da Assumpcam in the Royal Guernsey Magistrates Court, failure to rule and govern in the name of four letter word States (Protocol), 'Ocean of L.O.V.E.' your honour?