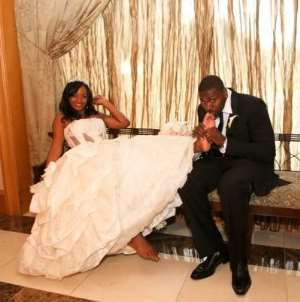 I am not sure if any of you have been in this situation before. Early this month, an unmarried friend of mine who has a younger sister was at the wedding of her sister and what she thought was the attention day for her lil sister became that of hers.( All eyes was on her like 2pac)
Countless well wishers of her sister including family members who greeted my friend said the same thing. I guess at this point, you know what they all said to her.
She did not look or sound jealous and neither did she ask for anyone's pity or assurance, yet these African women all said 'Do not worry, you are next, yours will come soon'.
As she told us her story and experience that day, I asked myself  'Does It Really Matter Who Marries First?'.
My little sister will also be taken to the aisle early December and I am beginning to get worried, maybe I should not go there because I cannot take those 'uncalled for and stupid messages' from Africans who think everyone woman has to marry at a certain age and that the older one should marry first.
It is sad and shallow to meet people who think married women equal happy women.  I hope no one comes to me on my little sister's D-day to 'bish' about 'it will be your turn next or you will be the next to marry' or else…….!  Spare me that crap.
The question still remains- Does It Really Matter Who Marries First?'. What is your take on this?